If you are looking for a affordable entry level Samsung Galaxy device that's reliable and wont break the bank then you definitely need to check out the Samsung Galaxy A11.
This will be a Samsung Galaxy A11 Review and Unboxing for those interested in buying this Android smartphone. The phone itself comes in under $200 and is a steal of a deal.
You need however to keep your expectations in reason. If you are accustomed to the best of the best such as Flagship device then this is not for you. Thus the entry level pricing and category I have opted to place it in.
With the above being said the affordable marking is not a put down but a stating of the facts. Samsung basically tired in my opinion to squeeze as much as it could into this device for the price point and they ended up with a pretty nice affordable offering.
What do they Place in the Box?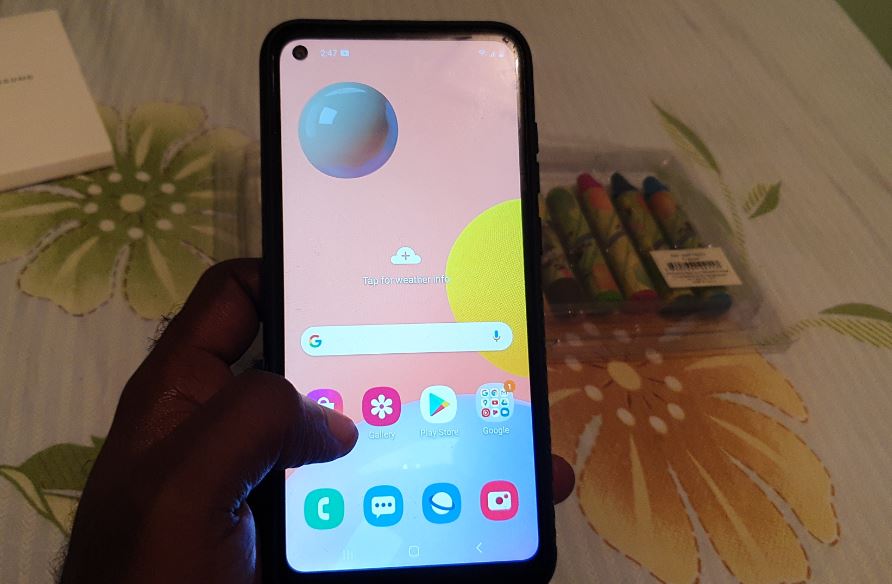 The Box contents are standard for any Modern device and includes: Headphones, Warranty info basic guides, SIM eject tool, Adapter, USB charge cable and the phone.
Presentation and boxing is very nice and everything is well snug and protected inside the box.For more details and to see exactly what I mean watch the video below.
General Specifications:
This smartphone has all the following specifications and features.
A 6.4" Infinity-O Display HD+
Three (3) Lenses.
Built-in 32GB of memory and SD Card Slot for Expansion to 512 GB max.
4000 mAh battery
Main Camera 13 MP
Selfie Camera 8 MP
Cellular and Wireless: 4G Lte
Does it Suck?
Well to get to the point and what most users tend to want to know is does it suck? Well it depends on what type of users you are. Personally power users can stop right here.This is not for power users who want the best of the best specs and are willing to pay for that bleeding edge tech.
If you need a device for all the basics that modern life requires such as social media, Web browsing, Playing Games on your phone, Making calls and doing so at a reasonable pace and resolution at a steal of a deal then this is your device for sure.
I was able to comfortably use the phone and get all I needed to do done in a reasonable time as it snappy out the box. The resolution is not extra crisp which you may or may not notice but I would hardly consider that a deal breaker for me.
I had the latest version of Android as well and updates in a timely manner which is always good to see. The Camera was also a suitable resolution and clear enough especially under good lighting to take some pretty solid pictures.
Slow downs are also to be expected with any phone as time progresses and if you clean up your phone from time to tome you should have no problem. Samsung after all provides a built in cleaner in setting that you can use to keep things snappy called Device care you might want to use.
Also be sure to get a case to protect your smartphone. The last thing you want is for it to break.
Strengths of this Device
One of the best feature of the Samsung Galaxy A11is the very good 4000 mAh battery that's built in which offers really good performance. You will not run out of power throughout the day as you use it.
The battery is plenty and really does a really solid job overall. I think this is the standout feature that really shines through above all the others.
Unboxing and Review Video:
This is my Video review, unboxing and overview of the Smartphone.
Why You should Buy this Smartphone?
1.Great Deal at under USD $200
2.Overall nice look.
3.Great build Quality.
4.Full App support and compatibility.
5.Good battery Life.
Why Skip this?
1.Entry level device and you do get what you pay for so to speak.
2.A little thick compared to some phones overall including bezels.
Where to Buy:
You can purchase yours below and remember to get a Case as well to protect your device.
Conclusion
If Price is your ultimate dictator and you simply want a smartphone that works and does a good Job this is definitely a worthy buy. I personally give this device my seal of approval as a great budget entry phone for teen, kid, Adult that want a good smartphone at a very reasonable price.
The device is some what limited and now a power house which is to be expected. So if you are looking for something within reason buy this. It wont beat any speed competition, or be the sharpest display you have ever seen with super thin bezels but it works and that good enough for me and for you if its within your budget go ahead and get yours.
Continue Reading we have even more Tips for you: