Today's fix will be related to: Phone does not ring keep missing calls fix. So a friend of mine got a new Samsung Galaxy that was working fine receiving and sending calls.
All of a sudden the phone stop ringing. This resulted in almost every call being missed and when we test called the phone only a very small icon in the notification area would indicate a call was taking place which was barely visible. The phone would simply not ring aloud.
Thank Jesus by which all things are possible that the problem was solved 100% and in this article I will walk you through what I found out by is grace which lead to the solving of this issue.
The Issue in Detail:
Samsung Galaxy phone constantly missing calls as phone will not ring out loud. This leads to constant miss calls. Phone does not Vibrate or indicate that a call is incoming except for very small icon top of the screen that very easy to miss even when you know what to look for.
What devices will this Fix work for?
This Fix will work for any Samsung Galaxy android based phones. The issue can also happen to any of these devices in a very similar way so bear that in mind.
Video Tutorial:
Check out this video guide and tutorial which will teach you how to fix this problem or you can read the written version below.
The Solution or Fix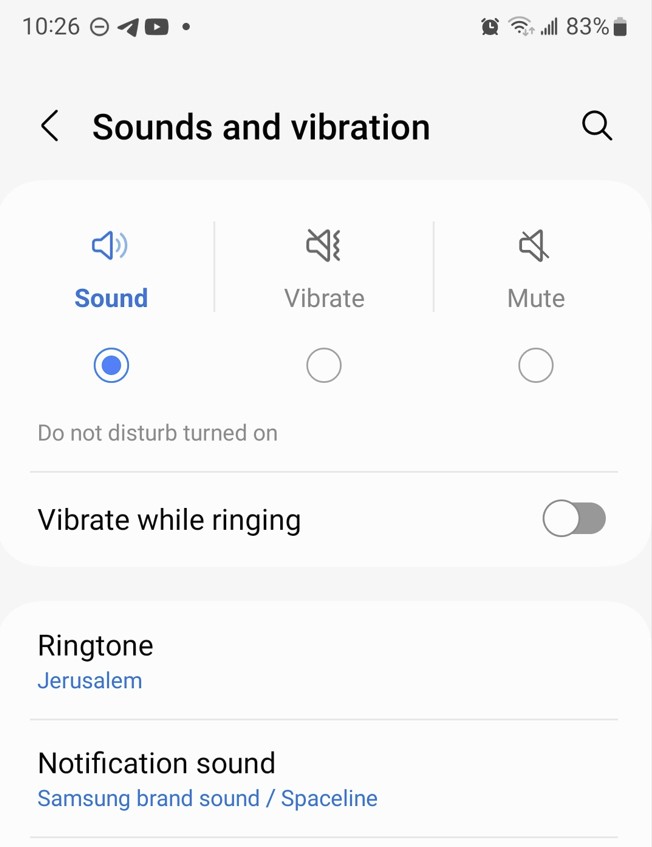 The problem was with the phone that it was in do not disturb mode. Weird thing was that there was no indication of this mode being on. With that happening the phone simply does not ring, also it was most likely put in that mode by mistake or in my friends case by is daughter.
To fix go to settings, Notifications, Do not disturb and toggle the setting off. You can now have someone call you and notice the phone rings out aloud.
Other Solutions
Now the issue described here can be caused by other things and as such try the following also if the above did not work
1.Go to settings, Sounds and vibrations, Volume and make sure that the Ringtone volume is not turned all the way down.Also for good measure make sure the other volume sliders are up.
2.Make sure your ring settings are correctly set. Go to settings Sounds and vibration and measure you are set to Sound and not Mute or vibrate mode.
3.Under Sounds and vibrations as above try changing the ringtone to something more audible or that you will hear.
4.Make sure No Bluetooth devices is receiving the Audio. This includes: Wireless Headsets, Wireless Ears pieces/buds,Wireless speakers etc. Simply turn off Bluetooth or look for indicators you are connected to a wireless device.I had a fiend that this happen to also.
5.As a last resort if all fails consider backing up and doing a reset. This is a extreme measure but I advise only use this in extreme situations.
How to Know if Do not Disturb is turned on?
You can tell if do not disturb is on on most updated phones by looking in the notification area and you will see a notification that Do not disturb is turned on and you can turn off from there.
Now some older phones or on some software versions for the Samsung Galaxy you may not see the Notification at all or you may even miss it all together.
You can know if its on by also going to settings, sounds and vibration. Look under sound,Vibration and Mute you will see: Do not disturb turned on. This is another indicator it on.
Before you Go
Did this solve it for you? Please take the time and share the guide, comment and feel free to let us know if this was helpful.
Continue Reading we have even more Tips for you: