If you have been using WordPress for a while you are bound to at one time or another notice or encounter the automatic saving feature that saves your document or on saving a draft see the message:Connection lost. Saving has been disabled until reconnected. This error by itself in most cases tend to eventually go away and the document eventually saves.
But every now and again it will linger indefinitely and refuse to save an article and that's where things really get annoying. In every case I have seen this error I have actually had internet connection as I was browsing fine but the message was still being displayed.
The most recent and severe case that it really posed a problem was when it actually displayed when I was editing and saving or updating an old article that I had the article simply refused to update and would display the message:Connection lost. Saving has been disabled until reconnected, which was far from the truth. Other articles would edit fine but this particular message would simply display for one of my main articles that needed updating.This is a recording of the solution I was able to find along with other potential fixes for those having the same issue.
The Full Message:
The full message as displayed at the top of the article reads:Connection lost. Saving has been disabled until you're reconnected. We're backing up this post in your browser, just in case.
Whats causing this error?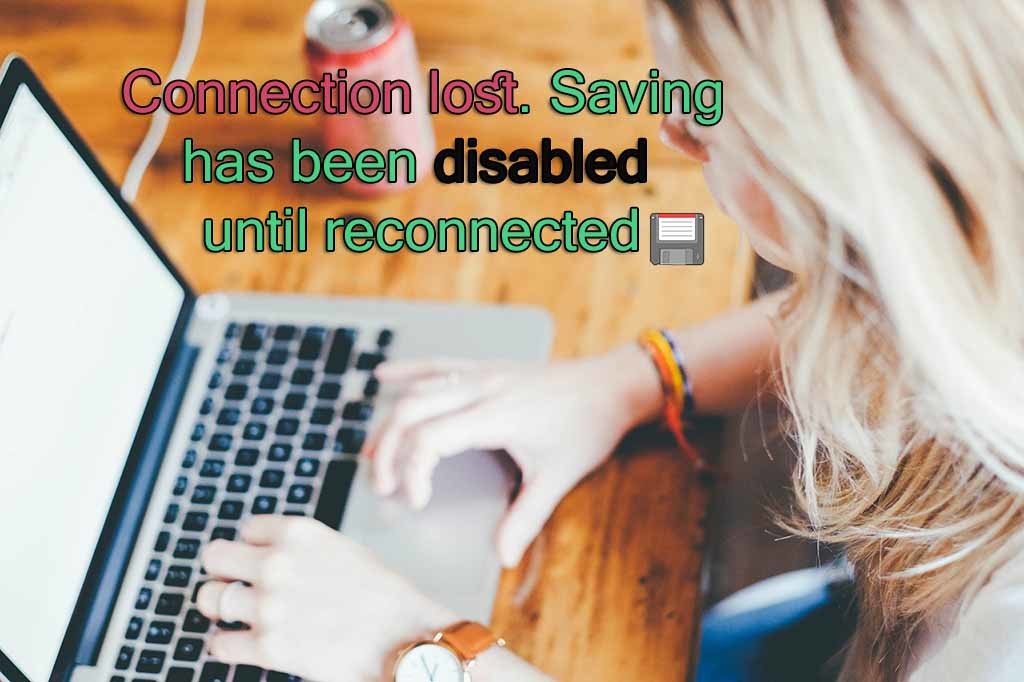 In my findings this error can be caused by three (3) possible culprits and you should rule none of them out:
WordPress
Your Internet connection.
Your computer
Connection lost. Saving has been disabled until reconnected
In my case the issue was being caused by my computer itself which I would not have guessed and thus the warning to not rule anything out but do try the following solutions:
1.First as in my case if you are having issues saving a new post or editing an old one I suggest you first rule out hardware issues that may be caused by your computer. So be sure to switch to another computer and try saving your article. If needs be you can copy the text or changes into a word or text document. In my case switching computers was able to solve the issue as the error was happening with one particular post.
2.Another smart thing if switching commuters does not work is to use an entirely new internet connection to see if it's really an issue with your connection. I know these steps might seems silly but in my case I had ruled out these steps only to find that the first one was to be blamed.
3. If all else fails I would focus on fixing the problem by looking at WordPress itself when posts will not save or updating a post refuses to save the changes and shows the above message.
Make sure to check the following in such cases:
Disable all plugins and see if you are able to save, you can re-enable them one by one until you find the culprit.
Update WordPress to the latest version or some people have suggested downgrading WordPress.
Update your theme or disable it and try saving.
Switch web browsers.
Create a new User account with at least editing privileges and try again.
I hope the tips above were able to help and as always you can ask for help below in the comments or share your story I will be glad to hear from you my readers.
Continue Reading we have even more Tips for you: