Have you ever had important text messages deleted from your phone and wished that you could somehow restore them? well you are in luck as today I will be showing you How to Restore text Messages Galaxy S8. This will fully restore your text messages in case of deletion or other cases which should come in handy for many users. The process is easy and should only take a few minutes, best of all anyone can do it as its super easy.
What devices does this work on?
This works on several devices that includes as mentioned above the Galaxy S8, Galaxy S8 Plus, Note 8 and other similar devices.So if you have other devices you can also give this a try as it should still work once you can still follow the directions as given below.
How to Restore text Messages Galaxy S8?
So if you need to restore your messages as they have been deleted then read below or watch the video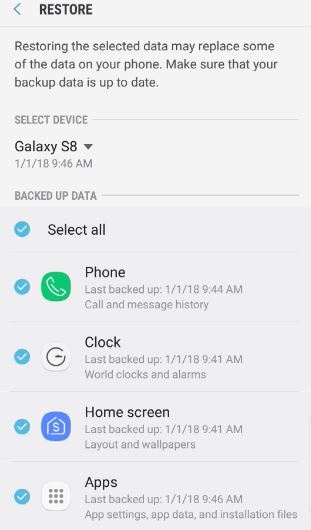 1.Go into settings.
2.Next select Cloud and Accounts.
3.Select Samsung Cloud, then select restore and wait.
4.Now deselect all by removing the check box from : Select all and specifically select: Messages. Finally select Restore now at the bottom.
5.After a while restoration should complete and you get a notification that all data is restored to the phone and you can actually see your old messages were backed up as they are restored.
Video Demonstration:
Watch the video to see how its done.
Bear in Mind:
If your phone performed a backup to the Samsung cloud this is the main way to restore text messages and other data such as : Documents, voice recordings,settings, Apps,pictures, phone call log and so on. So if it was not set up you may want to do so from now on which is really simple and easy. In this way for the future you can restore almost anything that's deleted from your device.Backup should be done in 24 hours after activating the feature. In most cases though it should be on and you have at least one backup.
Final Thoughts
So guys that's How to Restore text Messages Galaxy S8 so that you can get back those important texts which is really cool as in most cases you already have the backups on your device and you only need to know how to actually get to them and restore your data. So guys please leave a comment below and do remember to share this article with a reined or two. We also have plenty of other articles so please take the time to check them out.
Continue Reading we have even more Tips for you: