In today's article I would like to show you guys How to use Slow motion,selective focus,panorama and Hyperlapse videos Galaxy S8, S8 Plus, Note 8 and other similar devices to make very interesting Videos that is super cool and existing. You can then upload these videos to social media such as Instagram, Facebook and more for lots of views. So below you will find an explanation along with a video demonstrating how to use each feature.
How to use Slow motion,selective focus,panorama and Hyperlapse Videos Galaxy S8?
Go ahead and launch the camera on your Samsung Galaxy S8, S8 Plus, Note 8 or other similar device. From here go ahead and while on the main screen of the camera swipe from the left to the right and an overlay should pop out with all the main camera features such as: Slow motion,selective focus,panorama and Hyperlapse and more. You can see how each works as indicated below.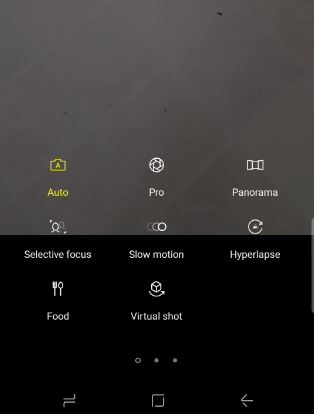 Slow motion Video
Slow motion slows down videos and makes things very slow which adds a cool effect. Select Slow motion as shown above or below in the video from the camera features and you can watch the video below as well to see how you can create Slow motion content easily. It's always good to think out what you want to capture in slow motion before actually attempting to capture it.
Selective focus
Selective Focus allows you to capture pictures and Videos with the background blurred and the image in front visible. You can also do the reverse where the foreground image is blurred and the background is focused. From camera select Selective focus from the camera modes and watch the video to see how it done.Remember the main image will need to be very close to the camera for the feature to work.
Panorama
Panorama allows you to fit more into a single shot than would be possible from the normal view window of the camera. It does this by stitching together a wide angle shot of an area together and thus fitting more into a picture. It's great for wide area or landscape shots where you have lots of subjects or a wide area you want to capture in a picture. As usual go to the camera and select Panorama as shown above and you should be good to go.
Hyperlapse
Hyperlapse also known as time lapse  video is the opposite of slow motion and actually shows a sped up version of the video captured that goes by super fast. You can get really creative a create some very cool videos with this one.
Final thoughts
If you have any questions or suggestions on the various camera modes as shown above please leave a comment below and I will be sure to get back to you in the shortest time possible and as always please take the time to check out our other articles and more as usual my friends.
Continue Reading we have even more Tips for you: