Smart Mirroring is one of the coolest features on Android especially on the Samsung Galaxy devices such as the Galaxy S8 and S9. In today's tutorial we will be showing you how to Screen Mirror your Samsung Galaxy to just about any Smart TV that you own. This way you can Play movies, Apps, Music, Pictures and so on your TV easily and all it takes is this guide and everything is done wirelessly.
What are the benefits of Screen Mirroring?
Ever had a video or some pictures you wanted to share with the family or a big audience? well with screen Mirroring you can cast the content that's on your small screen to that large Smart TV that's in the living room. That way every one can enjoy the Movie, Pictures or other form of content that you have on your smartphone in the easiest way possible and you most likely have everything you need on you without need of any extra fancy equipment.
What you will need?
1.A Smart TV of any brand.
2.Your Samsung or Android Smartphone.
3.WiFi Access.
How to Screen Mirror to Smart TV?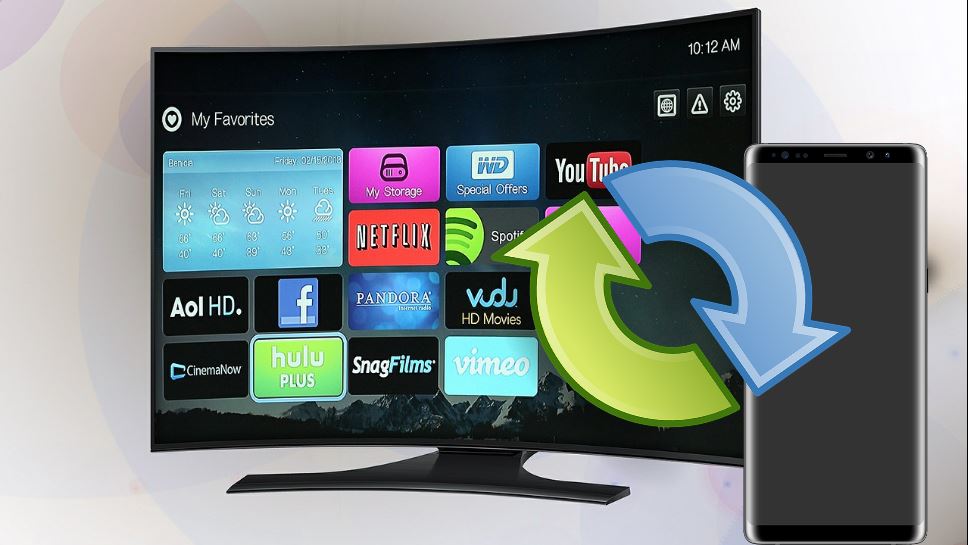 First of all you will need to:
1.Connect your Smart TV and Smartphone to the same WiFi Network.
2.On your Smart TV the brand does not matter as it could be Samsung, LG, Insignia or so on.Go ahead and find the Screen Mirroring option and enable it in settings. On my device which is an Insignia it was under: settings,System and then Screen Mirroring and set the feature to : Always allow.
3.On your Samsung smartphone from the home screen swipe down from the top of the screen and in the quick toggles search for and turn on : Smart View on most other device it will be called Screen Mirroring they are all the same thing. Once they are on the same WiFi network the Smart TV should easily find and start displaying whats on your smartphone.
4.I also recommend that for streaming any video you use the Video Play VLC which does really well for streaming video.
Screen Mirroring and Smart View
Do remember that Screen Mirroring and Smart View are the same feature but Samsung branded it Smart View for its newer devices but its the same feature which is Screen Mirroring with a fancy name but does the same thing.
Video Demonstration:
Watch the video below and see how everything is done.
Getting any Android App on Your Smart TV:
Did you know you can get any App that available on your Android smartphone on your TV? Yes you can, as you may know your smart TV may limit the apps you can install and does not allow the install of third-party apps but you can get around this with the use of screen Mirroring as any App thats installed on your Smartphone can be casted to your TV set with ease. It may not be the answer you are looking for as you may want to install an Android .apk or Android app to your TV but this is the best way and it works as you only need give it try.
Final Thoughts
So guys that's How to Screen Mirror to Smart TV Galaxy S8 and S9 in the easiest way possible. Best of all this method should work on any Android phone or Smart TV that's out there. Please take the time to leave a comment below with any question and do please share this article with your friends. I would also love if you would check out even more of our articles here on the website.
Continue Reading we have even more Tips for you: