I recently removed my Memory Card from my Samsung Smartphone and got on screen the An SD Card was removed Unsafely warning. Going short of thinking I might have damaged something I soon realized what I had done and did as indicated to restart. Later on My SD card was not detected anymore then I began to worry.
My guide today is aiming at explaining what this error means, how to avoid getting it and to help your SD card in being detected again should it become undetected.
The Error:
The Error reads: Restart your Phone. An SD Card was removed unsafely. To prevent your phone from restarting unexpectedly, save unsaved data and restart now.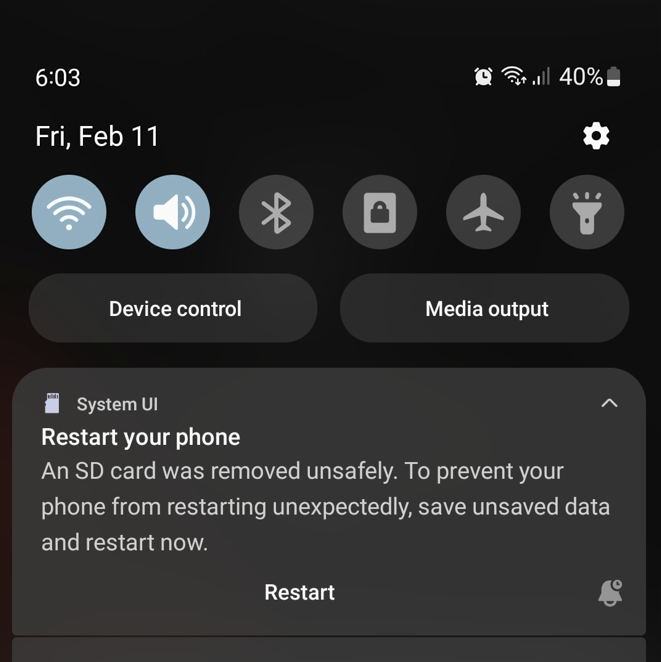 What does this mean?
You most likely while the phone was on removed the SIM tray with SD card Slot/SD card slot. The thing is there might have been files that were transferring at that time in the background or A app being Accessed that's stored on the card.
The Android OS does not like you simply removing the SD card especially without ejecting the SD Card first.
Video Tutorial:
Watch my video guide and tutorial and see what to do to solve this problem easily.
What can I do?
1.Its recommended that when removing the SD card that you power down the phone or Eject or unmount the SD card First to do so while the phone is on.
2.To unmount or Eject the SD card when the phone is on. Go to settings, Battery and device care, click on storage, swipe over to the right and click the three dots upper right and unmount. After this you can remove safely.
3.If you already Ejected the Card and got the error go ahead and reboot. If the card did not come up or was detected. Remove the SD card and wipe off the contact and reseat (While the device is on). It should be detected after another or a few tries.
You Know the drill
Go ahead and comment, share and please check out some more guides that should help you out if you are in a tight spot.
Continue Reading we have even more Tips for you: