Recently I had the issue of Jetpack for WordPress not updating and leaves site in maintenance mode. I decided to record what happened and how I got around the issue so if others are having a similar issue they too can also fix their problem. This fix may also apply to fixing other plugins that are behaving in a similar way. So you can go ahead and follow the tutorial to fix this issue.
I have been using Jetpack for years to keep track of my websites stats. It's a WordPress plugin that allows you to see what pages are being viewed on your website and by who and what links guest are clicking on. It gives a real in dept look at your website traffic and I highly recommend the plugin. I started to have issues lately with the latest updates were first the traditional website stats could not be accessed. Then finally update failed. I have never had this issue before as it updates flawlessly normally.
The Issue
When I saw there was a new update to Jetpack I happily updated only to notice for me the update was taking way longer than normal. In the update window under details I could see that the plugin had placed the website in maintenance mode so the update could run. Eventually the window was open for far too long and the loading icon had stopped.So I decided to actually reload the current page and the I saw the message I was in maintenance mode and could not access anything.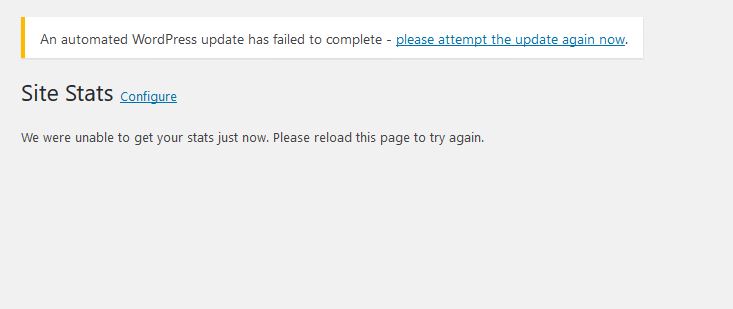 Waiting about nine minutes (9) or a little longer I noticed that the site came back online or the maintenance mode seemed to expire. The alternative was to go to cpanel and delete the maintenance mode file on the server. So I was happy it came back on its own. Next I noticed a notification:An automated WordPress update has failed to complete- please attempt the update again now. Also Jetpack had not updated and it was very unreliable and would throw up errors saying:We were unable to get your stats now.Please reload this page to try again.
How to Fix Jetpack failing to update?
Trying to update to the latest Jetpack in this case will always fail so you need to:
1.Go to Jetpack setting and write down all the features you have enable.
2. Go to plugins and disable Jetpack. Next uninstall Jetpack and go back to Plugins and add new and install Jetpack. It will now install to the latest version. If it does not don't worry try again once or log into your hosts c-panel and go to your website in the file Manager and go to plugins and delete the folder for the plugin in question and try installing again.
3.Finally you will realize that you will need to connect your WordPress website Jetpack to your WordPress.com account. Your old stats will be fine and will be reloaded.
4. Finally go to settings and re-enable all the features of WordPress you had enabled before and that's it,good as new without you loosing a thing.That's includes all your historical data from your website started.
Final Thoughts
A relatively easy fix I know but at times when things are not going right with your website one tends to get really on edge and you may miss solutions like this. So guys do share your thoughts and what your issue is and was this helpful? Also do share the article with a friend.
Continue Reading we have even more Tips for you: