Touchscreen laptops like the HP Pavilion 15-BA079DX are getting way more popular today. In fact touch will soon be a standard feature on all Laptops, for now its a novelty on mid to high-end Laptops. So if you have been eying one of these Laptops let me introduce to you this great unit that comes with everything you could possibly need in a Laptop.You will have plenty of storage and memory to play your casual games and much more while at home or on the go, you choose.
Specifications of this Laptop
This Laptop comes with a Ethernet port,3 x USB ports,headphone jack, DVD drive and memory card slot. The underside has a removable battery, inside is 6 GB or RAM, plus you have a AMD processor with 4 cores running at 2.40 GHz per core. Installed out the box is Windows 10 x64 bit and the screen is touch capable.The hard drive is 1 terabyte and can store lots of songs,movies and all your other media for your consumption.
Build Quality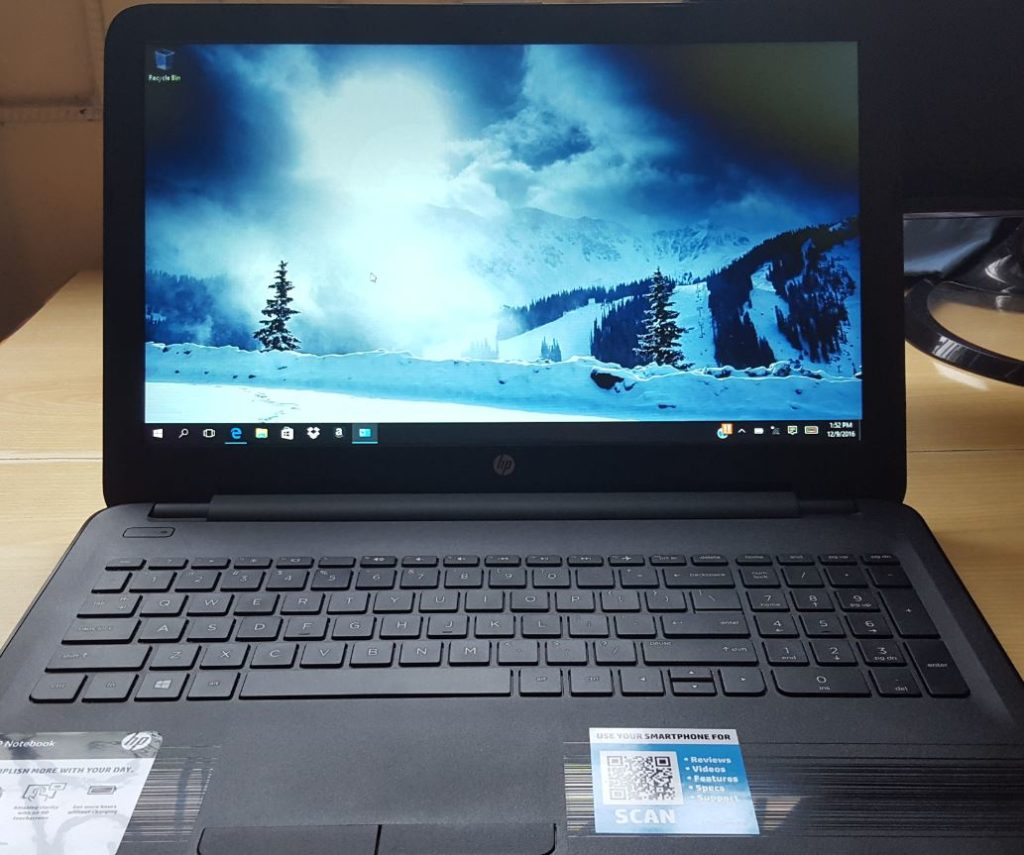 The HP Pavilion 15-BA079DX is made of plastic, the unit I have is black as you can see from the pictures. In my opinion it not bad with finger prints as a shiny surface laptop but if you have sweaty palms do expect it to get smudged and messy fast.Otherwise the build looks great although it's a bit on the weighty side although not too heavy at 4.72 lbs. I love the patterns that are etched into the plastic. They make the laptop look nice.
The Touch Screen
One of the best features is the large and vibrant 15.6 inch screen that's very responsive. It makes things so easy that you will swear you have always used a touch screen in the past. It does take a little time to get used to as you may sometimes forget the screen is touch but you will catch on easily. As soon as you touch the screen expect that you will see a cool imprint to show exactly where you are touching which is a nice addition.The HD screen has resolution of 1366 x 768 which is HD quality and looks really good when playing movies on it.
Performance
The laptop does well with HD Video and cuts through regular Laptop tasks such as web browsing and basic games. You will not be disappointed one bit trust me. You can do light to moderate high-end games which should be good for the average gamer or kid looking to play some PC games. You do get a lot of bloatware out the box that I would uninstall for the most part but which laptop does not come with bloat in today's world.
This laptop will be perfect for Business or play, it will fit in under almost any circumstance and I highly recommend that you get it not only for the touch screen but also for the great performance or enjoying games or multimedia.Also do remember to do these key things when you get a new laptop.
Why you should buy this Laptop:
1.Great Touchscreen
2. Good price for the features and performance.
3. Has a DVD drive which manufacturers are leaving out now a day to save on the price.
4. Large Hard drive.
Why you should skip this:
In my opinion this Laptop is a bit weighty, not super heavy but it has some weight to it. There is also the matter of bloatware but that can also be dealt with.
If you don't like this Laptop you can check out our recent review of this laptop here. Also do share your thoughts below on this Laptop and share this review with friends and family.
Continue Reading we have even more Tips for you: