In today's article we will be looking at How to Change Auto Lock Screen Timeout for iPhone 7 and 7 Plus? The feature is often called Auto-lock but it may be more commonly considered as screen timeout. The location of the setting has now been changed in the latest version of IOS. So if you are looking for the setting under: settings-general and then looking for the Auto-lock setting it has changed in IOS 10 to a new location.Dont you hate it when things get moved around and you always seem to go to the old location only not to find it.
Why change this setting?
Normally with phones and other devices your phone tends to auto-lock after not reviving any input after a predefined time of about 30 seconds. This saves battery and improves security by locking your phone after it auto locks. You sometimes even may forget to turn off your display and the battery drains completely if it were not for this feature. The reason you may want to change the setting is because your device locks too quickly after just pausing for a second as you decide what to do and you would like to extend the time your device takes to lock after not being used.
New Location of Auto-lock or where to find the setting in the New location:
The new setting has been moved to a more appropriate location according to apple. You can find it easily by going to:
1. Go to settings.
2. then Display and brightness.
3. Scroll down and you will see Auto-lock.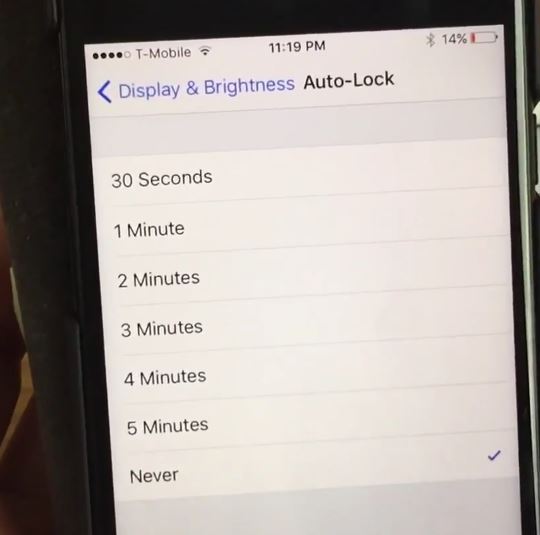 You will now have the option of choosing between 30 seconds max to 5 minute or never as your time-out setting.
Best Setting for this option
It's not recommended that you set the setting to never as that means unless you put the screen to sleep manually the display will never tun off. The phone will also not auto lock as it does after a timeout. I suggest you set it to a reasonable time such as 1-2 minutes. The last thing you want is for the display to be left on and deplete your battery completely. It will takes about 5 hours or so of having the display on all the time for the battery to drain completely so be extra careful with this setting.
Final Thoughts
Knowing where to find this setting is super important especially after getting a new device. I hope you found this article helpful, if you did do me a solid and share this with a friend on social media and also remember to leave a comment below. Looking forward to hearing from you soon.
Continue Reading we have even more Tips for you: