Today I have a really exciting review for you guys and that's the Xiaomi Mi Band 2 which is a smart Wristband thats super cool. It does a variety of heath related tracking such as the number of steps you have taken,heart rate, calories burned,distance walked and it even shows the date and time. I am really excited about this device and this review. This review unit was provided by Gear Best which has some of the best prices for this and other gadgets, so if you like the device be sure to show them some love.
Whats inside the Package?
We got the new white packaging for the Xiaomi Mi Band 2 which is great in terms of presentation. As you open the package you are greeted with the Wristband. The package contains:
1.The Xiaomi Mi Band 2
2.A USB charger cradle.
3. The rubber holder and strap.
4. User manual.
opening the package is reminiscent of opening an Apple product as the device is the first thing that greets you when the box is striped from its transparent plastic wrap and opened. I give Xiaomi props for the extra attention to presentation.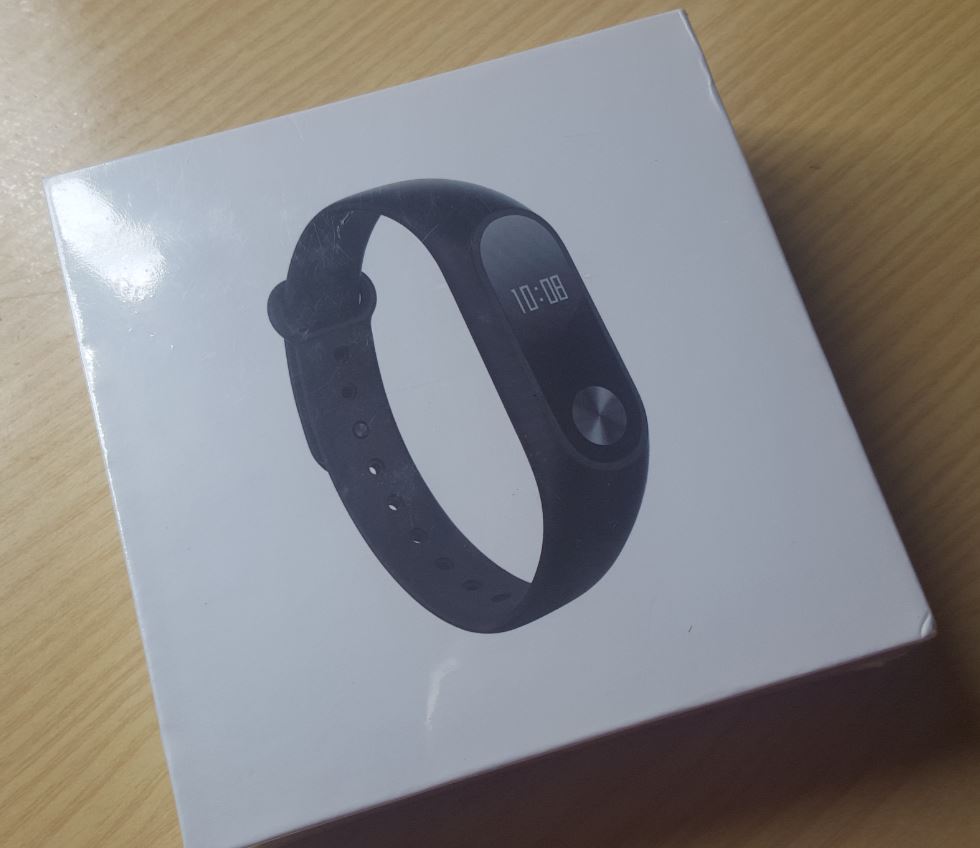 The Xiaomi Mi Band 2
The Xiaomi Mi Band 2 itself is a very nice site to behold with its black gloss finished front that's scratch resistant.It has a home button and a heart rate sensor on the back that lights up green. To fit it into the wrist band which in my package came in black, simply insert it at an angle from the back and it slips in easy. The band for the fitness tracker then slips on your wrist and the adjustable clasp fits over your hand and can fit various size hands.Its basically a one size fits all band.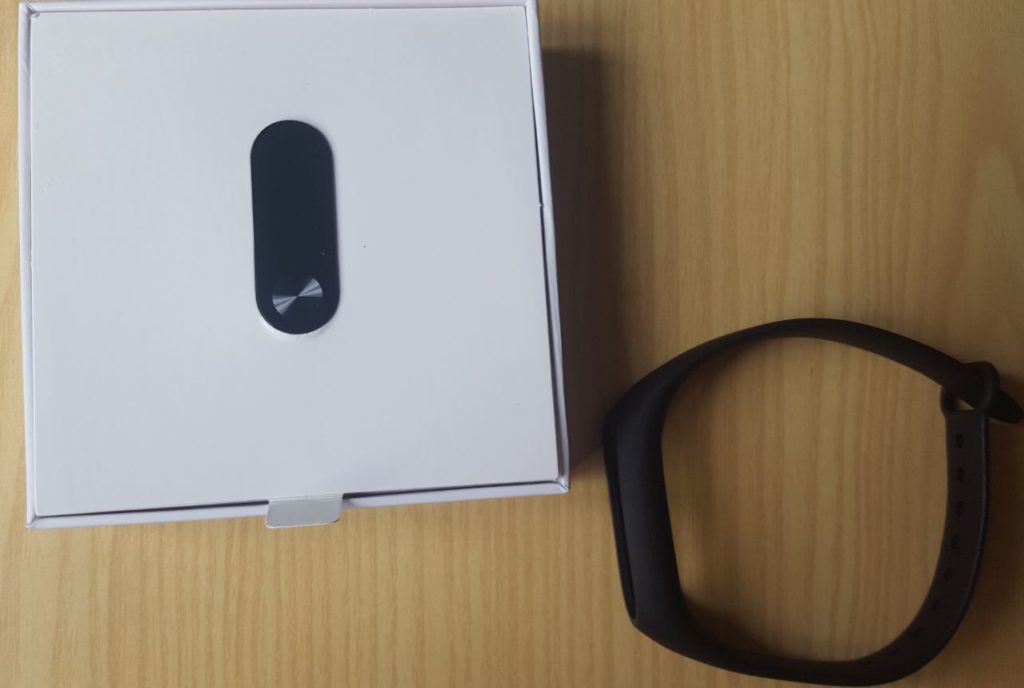 Out of the box it was easy to understand. A light tap and the display would come on. Showing the time.You then tap again to cycle through the onscreen options. The display is a nice OLED display and the numbers and icons light up in white.
The Mi Fit App
The Smart wristband connects to your smart phone by the Mi Fit App which can be downloaded here. The first thing I suggest is that you connect yours to your phone by Bluetooth as you will get the latest Firmware update which will add to the Smart Wristband features out of the box. Once I updated I was able to change the display time to show both Time and date which looks much cooler. I was also able to add or disable a bunch of features which included: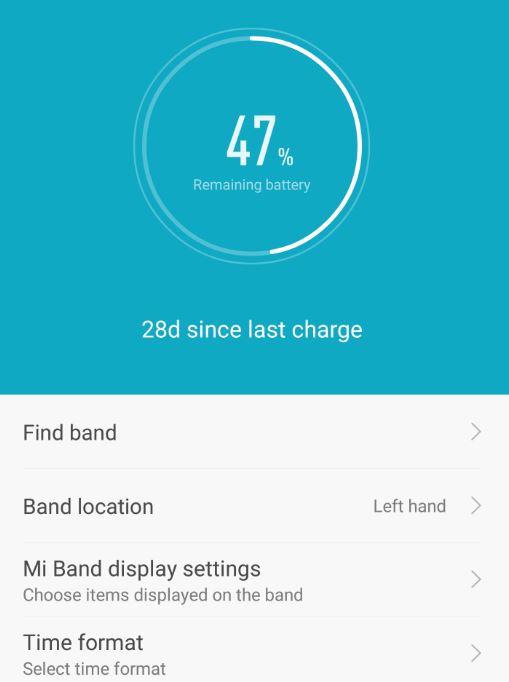 1.Steps Taken
2.Distance walked
3.Calories burned.
4.Heart Rate
5.Battery Percentage remaining.
The app is also for more than looks,it can perform cool features such as sync your fitness and activity data to your phone by Bluetooth. It can alert you when you have a call, unlock your phone when you are near, alarm when you want it to, remind you to keep active when you are inactive for long periods,show App notifications and call alerts from your phone. I mean this device does so much. The app can also show remaining battery and time since last charge.
You can mess with the settings and customize the way you want your Xiaomi Mi Band 2 to behave. This includes my favorite feature which allows the display to come on when you raise your wrist. This feature can only be activated through the app. You can also do a number of other tweaks to make this device truly yours, including the ability to monitor your sleep.
Video Demonstration and Review:
Check out the Video review and demonstration of this device.
Battery life
This device is a beast when it comes to battery life. It's very efficient as it has a OLED screen but better yet it can go for 20 days easy on stand by time. You can even get more if you don't use the more power demanding features such as the sleep monitor feature. I got mine charged out the box and it had about 47% battery a day later after messing with it and the features.I also keeping it on all day, I currently have 40% battery left after all that. Seriously this thing is very impressive. At this rate I might only charge once per month. I am sure you are impressed by now.
Accuracy
Overall the Xiaomi Mi Band 2 is very accurate and its able to track steps perfectly. I compared it after carrying around my Samsung Galaxy all day and wearing it. I then compared the steps taken on the Galaxy to this device and they were saying the same thing basically. So one was not too off from the other, it can be understood too as I from time to time may leave my phone a bit.
The only sensor that needs tweaking is the heart rate monitor. You have to know how to place it exactly on your wrist and the band has to be tightened for it to measure your heart rate. You also need to keep still long enough for it to get a measurement. If you don't get the hang of it you will get a constant vibrate and a fail symbol on-screen. It's no deal beaker though as you can easily figure out what makes it tick over time. Again all the data can me uploaded to your Mi Fit app to check your progress over time which is a fun and cool way to track fitness progress.
Water resistance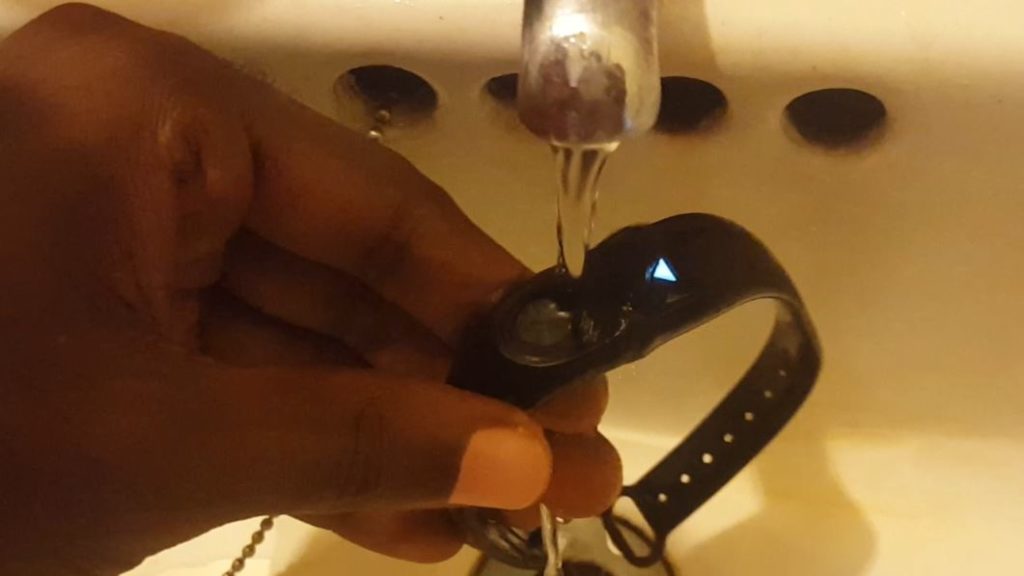 This cool device is IP67 waterproof and can survive in water for 30 minutes. I really like this as I don't have to stress if it get wet for any reason. There is literally no reason to ever take it off if you don't want to. The bands are made from a material that resists sweating so you don't have to worry if you sweat easily,this will not make you sweat as it touches your skin. You can even get a different color bands.
See the full water test of this device here with video.
Who is this for?
You might think this device is only for those who are into fitness. But that's where you would be wrong it's also for those who are into tech,those who want a cool gadget to pair with their smartphone and might not want a smartwatch.  If you just want to get healthier or want a cool gadget this is for you. It puts control of your health and fitness into your hand and lets you see how active you are on the daily.Mine has now replaced my watch and I love it as it so convenient and easy to program.
The Price
The price is really attractive and if you get it from our sponsors Gear Best you will get the very best prices. Other locations or sellers have it for much more but Gear best gives you a great price especially when they have a special or discount going.The price is really low and you are getting a top-notch product to boot that wont disappoint.
Why You should buy this device?
It's a very good device.
Low price.
Very accurate sensor for activity monitoring.
Lots of cool features that pair with your smartphone.
Why you may Skip this:
You may skip this because:
1.The heart rate sensor takes a while to get it just right and is not super sensitive as it may miss read if not placed in the correct place.
Conclusion
If you are looking for a cool fitness band or you just want a great smart wristband that can last for days on end then look no further. Xiaomi Mi has refined the this smart band and created a product that really worth the cost you will pay. I can easily see how this device has improved my life already. I am now am extra careful not to sit around too much and to make sure I am active during the days as I work. If I am inactive I make an effort to go out and move. It also appeals to the Tech geek in me as I really like playing with the features of this device, it compliments my smartphone well.
I do hope you guys enjoyed this review it was really great reviewing the this great gadget. I would love to hear your thoughts or questions on this device. Please take the time and leave a comment below and do share this gadget with a friend as it would be greatly appreciated.