Have you ever wondered what would happen if you were in an accident or fell ill and you were taken to the hospital and no one knew who you were. How would they know who to call or get further information about you? Well luckily we all have Smartphones and the Galaxy S8 especially and other Samsung phones have a feature built-in called ICE Contacts. The sad thing is though that most people do not set up the feature which could save their life.
What is ICE Contact?
An ICE Contact or In case of Emergency contact is a number or group of numbers that you designate in your phone that can be called should you be in an emergency situation. They are often called Emergency contacts. The fun thing is that even if your phone is locked once an emergency contact is set you can simply select emergency call and see the numbers set as emergency numbers and call them. Even if the phones locked the call will be made seeing its an emergency contact.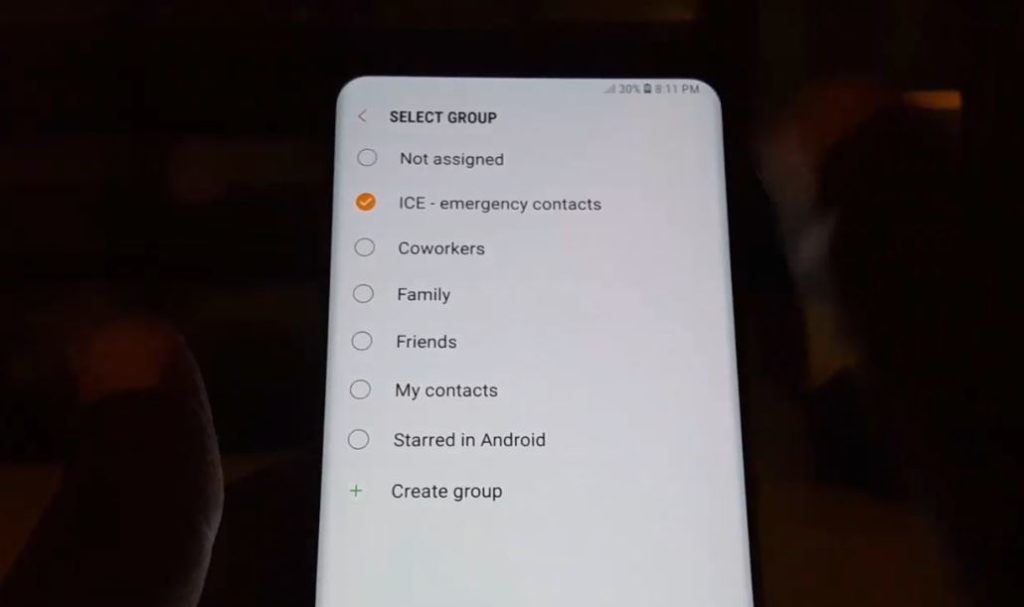 How to setup your ICE contacts?
1.Select a existing number in your phone or add a new one. The number should be stored locally on the phone and not on a SIM card or Google account.
2. Go to the contact and edit, you may have to select phone as the source if its saved in several places.
3.Under group select the not assigned option and set it to : ICE-Emergency contacts and go back and save.
4.Lock your phone and while on the lock screen select the phone icon and select Emergency Call.
5. While on the Emergency Call screen select the Plus or exclamation option and you should see at least one emergency contact if you did the earlier steps. Select that person lock the phone once more and awaken the screen and go back to emergency call and this time you will see the name of the person set as an emergency contact ready to call.
Bonus Tip: How to Set Contact Information on Lock Screen?
This one is a different feature but is sorta related. With this method you can add your name to the lock screen, add a contact number in case your phone gets lost or both. It's recommended that you also use a friends number or house phone number in case someone calls it they can get someone and organize a pickup of the phone.
1.To set contact information on the Lock screen go to settings.
2.Then select lock screen and security.
3.Now select information and FaceWidgets and finally enter your name and number under: Contact information.
Now if your phone gets lost the person that finds it will know who to call and the name of the person that lost the phone.
Final Thoughts
Thats pretty much it for how to setup the ICE Contact Galaxy S8, I did this for all my past Samsung Galaxy phones and its even available on other Android devices and is setup in a similar way. If you found this useful then take things a step further and share this article and leave a comment below. We have lots of articles so be sure to check out a few as well.
Continue Reading we have even more Tips for you: