Although this is a Technology Blog I came across this product which is called Auto Fireman Car Extinguisher and it was very exciting piece of technology and I though I would take a look at this device given that we all have cars or use them. As the name of the product suggest this is an Automatic Fire extinguisher that fits in your engine and automatically detects when there is a fire and puts it out.
The fun part about this product is that unlike the traditional fire extinguisher it's not passive and actually does everything automatically and can actually save your car and even your life in case of emergency. You could not ask for more in a product like this.
Auto Fireman Car Extinguisher
The device will be launched on Indiegogo and looks like two small red hat like devices with small holes in one end and with a hose lead from both. Its small enough to fit in the palm and is so simple to install in your engine that anyone can do it. You simply connect both devices using an included connection cable and install in the engine. This is great as most car fires start in the engine meaning the device is at the source of the potential fire when and if it should start.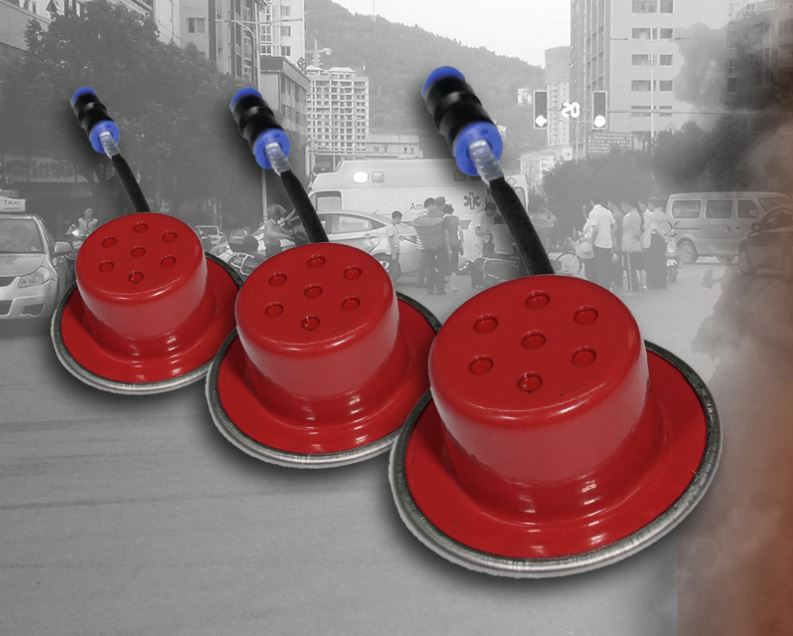 Both units are place in the engine at either end and connected by a thermal line and that's it. Once a high temperature of about 600 °C the extinguisher will activate and put the fire out. The extinguishant  in this device should extinguish the blaze in 30 seconds or so. The technology used for detecting fire is also very advance and the system is really dependable.
The extinguisher unit is 3 Cm tall and 7 cm wide at its base and both ends have a strong magnet that allows it to attach to the car engine area. Also don't worry as it will not fall off while the car is in motion,it's simply install it and forget it.
Video
Check out this great product as demonstrated below in the video.
Is it Environmentally friendly?
The chemicals in the auto fireman contain no toxins and will not pollute the environment with use. The product contains 60% N2, CO2, little CO, NO2, O2, hydrocarbon and 40% are rigid granules.So as you can see most of this contains harmless gases for the most part and other materials.
Where can I get this product?
You can for now check out this product on the Manufacturer website here. Then read through the page and send them a link as well as the Indiegogo campaign should start soon.
My Thoughts
I think this concept of an Auto Fireman is a really smart idea as the last thing you want is for a fire to start in your Car especially in the engine area from which they usually originate and cause injury or loss of life. This small investment could potentially save your life in a tight situation. Overall I think we should invest in more technologies like this and with this particular product you can so please take the time to leave a comment below and I will be sure to get back to you.
Continue Reading we have even more Tips for you: