So recently Samsung updated the Gallery App and added the ability to Hide Albums. This is a really great addition as it allows users to better mange their pictures easily in Gallery and hide annoying pictures or folders they don't want showing up in the Gallery. This is not a super secure method as using Secure Folder but its nice that you can keep some albums out of sight and make your Gallery more pleasing to the eyes. So follow me as I show you how to Hide Albums in the Samsung Gallery App.
Why Hide Folders?
Have you ever gone into your Gallery and noticed that folders and pictures simply appear from places such as your MicroSD card such as Music album art and more. As you scroll through your Gallery or look through Albums they are there and you might not want to see these files as you navigate your Camera Roll. So in these cases why not hide them?
What Can I hide?
You are only allowed to Hide folders or Albums created by third-party Apps such as Whatsapp, Instagram and so on for the most part.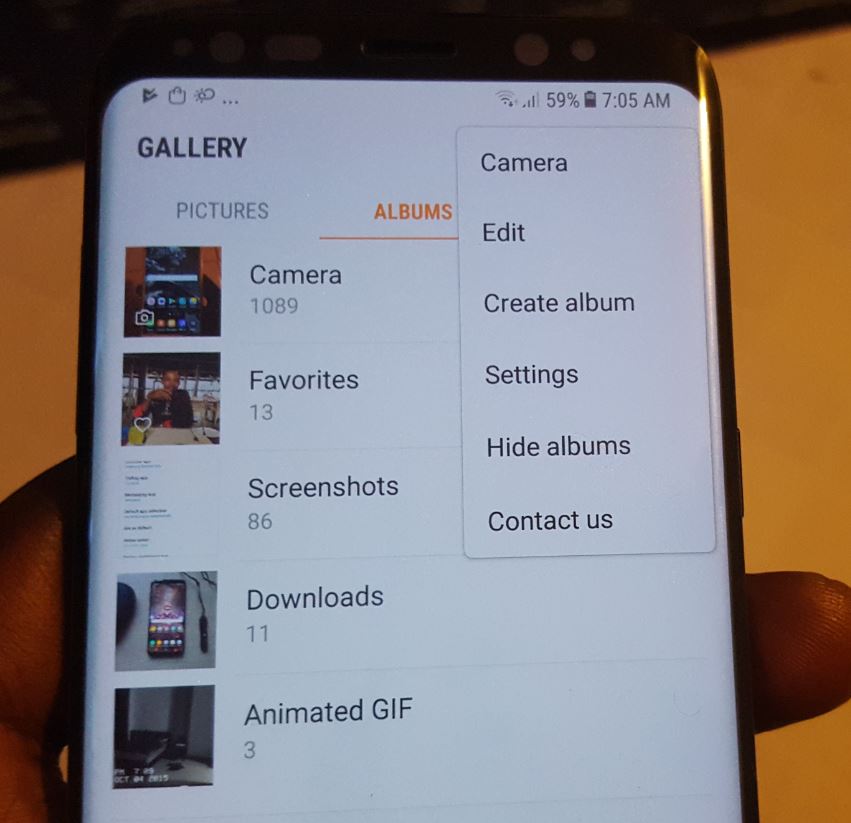 How to Hide Albums in Gallery App on Galaxy S8 or Note 8?
To hide an undesirable Album or one of your choice:
1.Go to Gallery.
2.On the tab at the very top switch from Pictures to Albums.
3.Click the three vertical dots in the upper right and select Hide Albums.Next scroll through and select the undesirable Album or folder.
4.Select hide in the upper right and wallah the Folder or Album will now not appear in your Albums or Pictures roll.
How to Make a Hidden Album in Gallery Visible again?
To make a hidden Album visible again simply do the reverse of the above.
1.Go to Gallery and select Albums and click three dots upper right.
2.Select Hide Albums and unselect any checked Album and hit hide to make visible.
Final Thoughts
Note that when you make an Album or folder Hidden it will disappear from the Camera roll and not show up in Gallery. That includes folders you place on a MicroSD card with Pictures or Videos and those from Apps such as Whatsapp. I think this is a great new feature to manage the Gallery as you don't want every single file showing up in the Gallery and now you can manage what shows up.
If you enjoyed this tutorial please take the time to share and leave a comment below, also please do check out other articles that we have as well.
Continue Reading we have even more Tips for you: