In today's article we will be looking at how to Show or hide Lock screen notification content. This is very important to know how to do as in most cases anyone can read notification from apps such as Messaging and any other app without even needing to open your phone from the lock screen, which can have your private messages on display.
At the end of the article you will know how to hide notifications so that only those who have access or the password to your phone can read any notification and when they appear on the lock screen it will show up as an icon only and the content of the notification will not be able to read at all.
Why do this?
This is a great way to improve your privacy and so prevent anyone who take up your phone from seeing notifications or messages as they are displayed on the lock screen by default. You will be able to tell there is a notification but you will be unable to read it at all without first unlocking the device.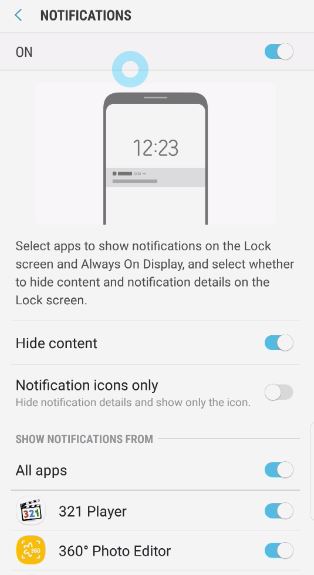 Video Demonstration
Watch the Video below to see exactly what to do. You can also read the worded version below the video as well.
Show or hide Lock screen notification content
1. Go to settings.
2.Go to lock screen and security.
3.Next go to notifications.
4.Make sure the feature is on with the toggle in the upper right.
5.Choose the hide content to hide the actual content of messages or notifications. You can also enable show notification icon only which will hide details but show which app has a notification.
You can also choose which apps to show notifications for and which not to on the lockscreen.
Final thoughts
That's it for Show or hide Lock screen notification content Galaxy S8 or other similar devices. Please share this article and leave a comment below. Please also take the time to check out our many other articles that we have on various topics related to technology.
Continue Reading we have even more Tips for you: