For those who are having Instagram server issues and the problem where they refresh their feed and see the message: Couldn't refresh feed then we have an easy fix for you in these cases.This issue poses as a problem as no matter how many times you refresh the feed the new posts wont load or even if they load its only after several annoying attempts. You also have to see the can't refresh feed message every time over and over again.
How to Fix Instagram server issue and Couldn't Refresh feed?
So in order to fix the problem and get things loading as they should you will have to:
1.Go to your profile on Instagram.
2.Next go to settings upper right.
3.Next scroll down and logout of your account, close the app and then launch and also log back in.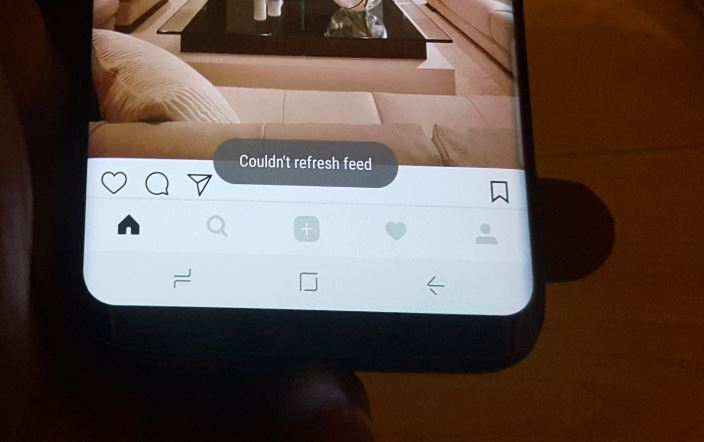 or
1.Go to settings on your phone.
2.Next go to apps.
3.Find Instagram and click it and go to storage and clear cache and data.
4.Relaunch the app and see if it still works.
or
1.Go ahead and uninstall the app.
2.Do this by going to settings,apps and find Instagram and click it and uninstall.
3.On newer devices you can long press the icon and choose uninstall.
4.Go to Google Play and find Instagram and reinstall Reinstall the app a fresh and log back in which should be easy and the issue should be fixed.
Video Demonstration:
See how its done in this video demonstration.
Important:Be sure to read this
Sometimes the issue as described here might be a direct issue with Instagram and there is nothing wrong with the App or your phone. While unlikely it does happen.
In those cases you will find that lots of other users will have the problem as well. What can you do? well comment below and place the date and time and see if others are commenting the issue too which can verify this. You can do this on the video as well.
Why is this happening to my Instagram?
This is a basic problem that's caused most times by cache build up which affects your Instagram synchronizing with the Instagram feed server so you can't see your latest updates even when there are updates of posts to the feeds. Thus the message Couldn't Refresh feed or a similarly worded message.
Final thoughts
I do hope you enjoyed the article, if you did share now with friends and please leave a comment below asking any questions. I would also appreciate it if you also checked out a few more articles below as we have plenty.