Today I will be showing you guys How to Remove back cover of Samsung Tablet and the best part is that no special tool are necessary to do this as you can use stuff found around the house. If you have ever tried to open a Samsung tablet you will come to realize that it's no easy task when you have no clue how to begin. If you are not careful as well you might end up breaking something critical. But armed with this tutorial I will show you the easiest and most effective way to open up a Tablet from Samsung.
Why you may want to do this?
Most times you may need to open your Tablet as something is wrong with the device. Other times it may be a part that needs changing such as the Battery, Main board or some other component. Also you may find that the tablet may have been dropped and something was knocked loose and you will need to open it up to reconnect it and have things working again as normal.
What you will need?
First you will need a
1.Metal Tweezer
2.The Tablet you need opened.
How to Remove back cover of Samsung Table?
You can watch the video below to see how its done or follow along with the written instructions.
1.Power off the Tablet.
2.Get the Tweezer and open up the MicoSD card slot and try to get the Tweezer between the grove just between the slot which is the easiest point at which to start to open up the Tablet.
3.Once the Tweezer is inserted between the two halves slide it along the length of the tablet. You can also twist the tweezer around to help with opening up the tablet. Take your time and move along the  edges until both halves snap and separate.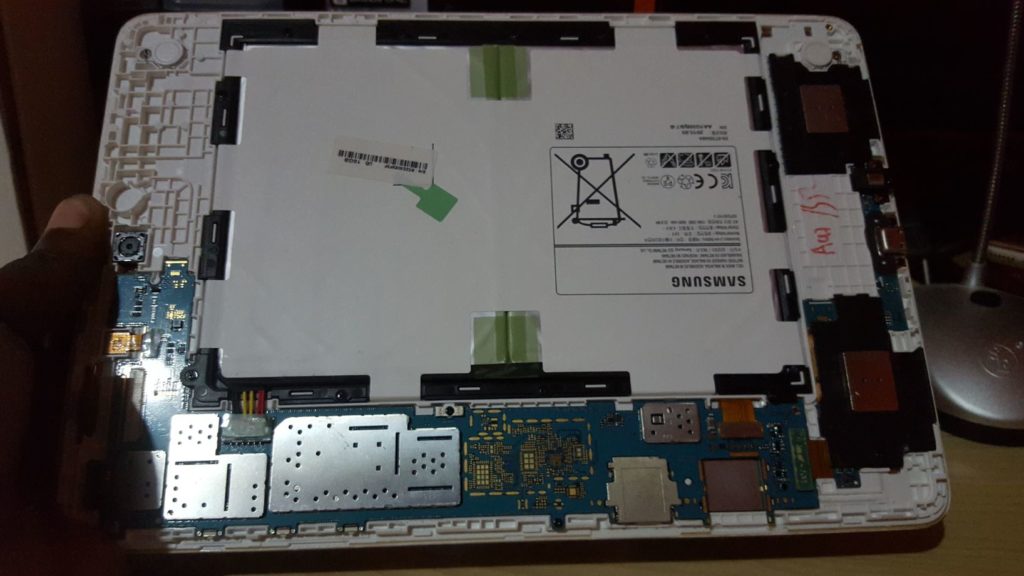 4.Once finished the back should come right off easily. From here you can disconnect and replace the battery, motherboard or reconnect any connection that's loose with ease.
Final Thoughts
so guys that's How to Remove back cover of Samsung Tablet with no special tool. It's the most effective way I have seen. You can also substitute the tweezer for other stuff such as an old credit card or other hard plastic. Please share this article with friends and take the time to comment below. I would also appreciate it if you could check out even more articles her eon the website.