The Apple AirPods and AirPods 2 are really popular with consumers and as such you may expect that other manufacturers will create lookalikes as well as total rip off clones or fakes.
So follow us as I show you How to Spot Fake Apple AirPods or AirPods 2. It might be difficult as some fakes are really convincing but not impossible.
What is a Fake Apple AirPod or AirPod 2?
A fake Apple AirPod is a lookalike device that usually cost the fraction of the real deal and is meant to look like the official device.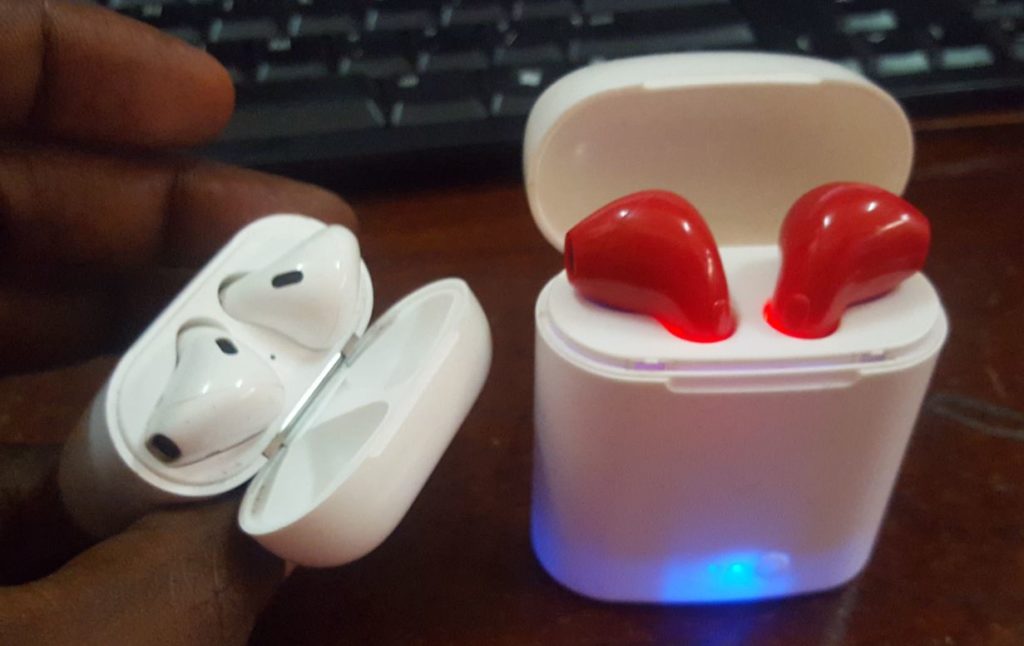 These fakes or clones usually are inferior in performance and often pale in comparison.The issue though is where these devices are passed off as the real deal to unsuspecting customers.
The same applies to the AirPod 2 which are almost the same as the first generation but with a few extra features but both devices look the same for the most part.
How to Spot a Fake Apple AirPods and AirPods 2?
You can use the following to tell if your AirPods or AirPods 2 are fake.
1.Size: The Size of the case and the AirPods themselves are a dead give away. Early Clones were really large in size compared to the real deal. Some clones are a 1:1 copy though but bear this in mind.
2.Effortless connection: A very cool feature of the real Airpods and AirPod 2 is that its easily detected and simply works with a iPhone. Fakes usually require that you pair your device by Bluetooth manually.
3.Packaging: Box often does not say AirPods or AirPods 2 and will indicate some other weird name. Text and font may be off on he box and less bright.
4.Physical Characteristics: Make sure all the speaker cutouts and sensors on the Airpods and physical characteristics of the case are accurate.Some fakes have odd extras and cutouts.
They should also feel comfortable and fit your ears nicely.
5.Price: If the price is very cheap at about under $100 or $50 especially then its definitely a fake. The real Airpods and AirPods 2 cost allot more.
6.Color: The Apple AirPods and AirPods 2 exclusively comes in white and any other color out the box is a dead giveaway you have a clone.
7.Battery life:The battery life of the fakes is usually 1 to 2 hours compared to the real AirPods 5 hours battery life. Bear in mind that performance will be affected by volume and so on.
8.Audio Quality: Fakes have inferior audio Quality. The sound will not be as crisp and clear as the real AirPods and AirPods 2. If the sound is flat and not a joy to listen to you definitely have a fake.
9.Wireless Charge Case: The wireless charge case is a main feature of the AirPods 2, this is a feature that's much more difficult to copy so expect that this will be harder to copy on a fake AirPod.
10.Odd buttons:If any additional buttons on the case or AirPods that should not be there.Especially if those buttons have power symbols and so on is definitely a fake.
Additional things to look out for:
The following may also apply to the fakes.
1.The cover hinge makes a sharp and satisfying snap when opened and closed.
2. Some fakes have a irregular shaped compared to the real deal.
3.Odd lights or LED placement.
4.LED Inside case.
5.Magnetic hold to fix AirPods in place inside the case.
6.Look at the AirPods through a camera and you should notice a blinking sensor light you could not see before.
7.No tap controls.
Before you Go:
That's it for How to Spot Fake Apple AirPods. Please take the time right now to comment, share and check out our articles on the blog.
Continue Reading we have even more Tips for you: