So a common thing you may need to do in Android 10 from time to time is learn How to Install Unknown Apps Android 10. In my experience the settings related to this feature gets changed a bit between Android versions.
Today My aim is to update you on how to Install Unknown Apps or show you to install Apps from Unknown sources.
Why Do this?
Sometimes on Android you may need to install a App as a .apk file. As such it becomes very important that you know how to install unknown apps that may not exist in the Google Play Store or Samsung App store.
In these cases the app may be delivered as a .apk for you to install. I have in the past done this for Smartwatches, Security Cameras and so on that I have bought with a App.
Plus from time to time I install apps from trusted sources that I download as .Apk files.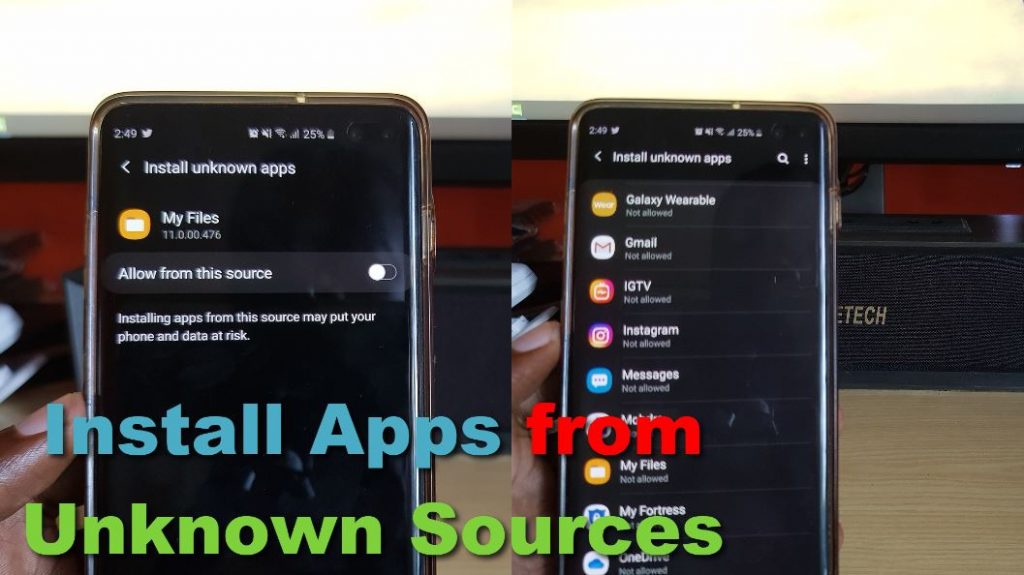 How to Install Apps from Unknown Sources on Android 10.
Make sure you have a .apk file that you have downloaded ready to install.
1.To find the setting on your Android phone.
2.Now go to Biometrics and security.
3.Now go to Install Unknown Apps.
4.Search for My Files and select it. Now select : Allow from this source and turn the toggle on.
5.Browse to the .apk file you downloaded and install it. (If you did not do the previous steps 1-4 the My Files Option Would appear on screen with settings option to do the same.)
Video Tutorial:
Watch the Video seen below and learn how it all done one step at a time. Everything shown from start to finish.
How does this Work?
As seen the Unknown Sources for installing Unknown Apps is disabled by default for security reasons. The tutorial shows you how to turn on the feature.
In Android 10 various Apps and sources has to be given permission to install Unknown Apps. In our case a .apk file downloaded to your device has to be granted access to install through My files as done above before install can proceed.
Before you Leave
That's about it on How to Install Unknown Apps Android 10. I suggest that you take the time right now and share this. If you have a question ask me below. See you in our next article.
Continue Reading we have even more Tips for you: