So the Galaxy S20 has a brand new Camera Cutout to the center top section of the screen. Now some people may love it and others may hate it. Best part is that if you don't like it there is something you can do about it.
This article will show you a cool way on How to Hide Camera Cutout on the Galaxy S20. So follow the directions just below and see what to do.
Best part is that there is nothing to download as everything you need is built into the Galaxy S20.
What devices does this apply to?
This guide applies to the Galaxy S20, galaxy S20 Plus and the S20 Ultra. Should also carry over to other future devices as well.
How does this Work?
There will be a black bar placed at the top of the screen and this will hide the camera cutout. Best of all this can be used to fix Display issue that may occur in some apps.
Hid the Camera Cutout on the Galaxy S20: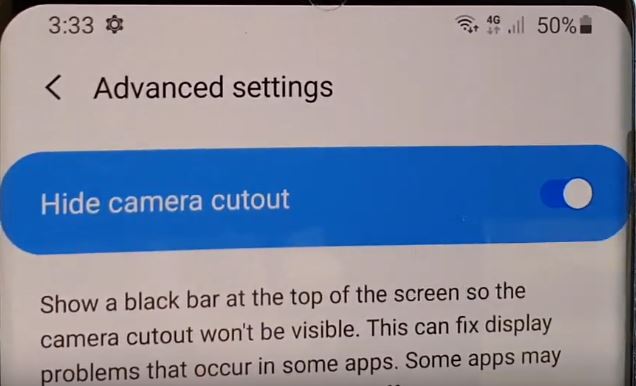 1.Go to settings.
2.Now scroll down and select display.
3.Scroll down on the next screen and select the option for: Full Screen Apps. Click on the three dots upper right and Select Advanced settings.
4.Now enable the option for: Hide Camera Cutout. You can also turn it off here as well if you like. Notice the bar that's added at the top of the screen when the feature is turned on.
Do me a solid
If you think this was useful then please share it. I would also love if you could comment below or check out more of my content here on the website.