Ever wish that you could password lock any App or feature on Android that persons could not mess with your phone in such ways as searching your phone book, pictures, texts or even making a call or that one favorite App you want no one playing around with. Well while the standard lock feature of Android is who fully inadequate I am here to show you how to lock any App with a password or bar users on your Android phone from specific features or settings.
Benefits of AppLock
1.You will be able to lock any app that comes with your Phone or that you download from the Google play store weather or not they come with a password.
2. You can lock features such as: WiFi, the Google Play store, the ability to install and uninstall Apps, settings, Answer calls, Bluetooth. mobile data network access.
3. create custom profiles to block certain features based on those who are using your phone.
4. Protect Pictures and video that are private in a vault.
5. Choose between password or Pattern lock with security features to protect your password with maximum safety and much more.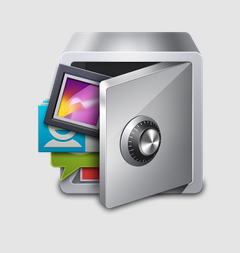 How to Password Lock Any App or Feature on Android?
To actually be able to lock any App or feature of your choice you will need to download the Play Store app: AppLock which is a free app.
How to setup AppLock?
The setup process is fairly simple :
1. Download the App here if you have not already done so.
2. After installation launch the App from the icon.
3. You will be asked to set up a password, create a password that's difficult to guess and repeat it on the other screen that asked you to type it in again.
4. Next you will be asked to enter an email for security reason and in case you forget your Pin and need to reset it, be sure to enter a legit email address.
5. That's it installation is complete you will now be in a screen with all the options showing every App and feature that you can lock, as seen below: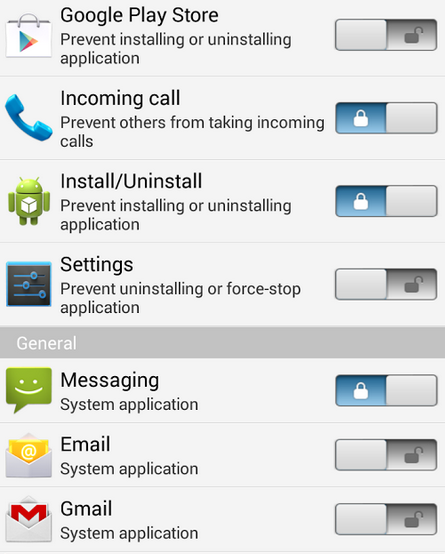 6. Slide the open lock icon to the right and that it the selected App will be locked with your pin that you set earlier. The lock screen should look like a standard Android lock screen however you can download different styles from the themes menu.
Other features that might come in handy:
This app also includes a Time locks, Location Lock and much more.
The Photo and Video Vault
This Vault can be used to keep your private pictures and video respectively if you would like another option that does both you can check out this handy App here that we reviewed earlier.
How to use the Picture or Video Vault?
To find the picture vault click on the menu icon in the upper left of the screen and select Photo or Video vault.
There should be an option that says: Move photo or Video into vault depending on which folder you are in.
Browse your pictures and select the picture that you want to secure by tapping on it and clicking the lock icon. There will be a pop up asking if you want to move the file into the vault, select OK and in a few seconds the file will be in the vault with a successful operation confirmation screen.
How to Change App lock Password Lock to a pattern lock?
If you would rather a pattern lock then simply open AppLock and select the menu button in the upper left of the screen, next select settings and change unlock mode to pattern lock and follow the onscreen instructions. You can also customize your pattern and lock settings in this menu.
Also by clicking on either of the three tabs in settings you can do cool things such as randomize the keyboard so other can't catch your password easily or hide the App all together.
I hope that you have found this Android app very useful as we have, I often use it to block people who may mess with my phone and run off the minutes or cause a high data charge. Best of all we all have those pictures that we want no one running into by accident so its smart to lock the gallery or use the special vault your choice. If you found this app useful or you simply love our tips don't be scared of leaving a short comment below it proves that this was all worth while and can help in improving future articles.
Continue Reading we have even more Tips for you: