When I first got my Samsung Galaxy S5 I was so excited, but beside that excitement was the fear that I would scratch or worse crack or scratch some part of the device. After all a Smartphone is much more than a phone, we practically have our whole lives on those things and we spend quite a chunk of change on them. So the smartest thing that I can tell any one to do after getting their brand new Galaxy S5 is to get a case and I see no better case than the Otterbox Commuter series of cases.
Otterbox Commuter series
You will simply love this cases as it looks and feels like a case that can protect your Galaxy S5 should it fall from your hands or get banged up. I hate bulky cases, they just rub me wrong and if someone told me that I would be using an Otterbox I would say that they were crazy a few months back as I thought they only made thick clunky cases but the Commuter series surprised me as it was just the right amount of thick that made the case not too bulky.
The case itself has two layers to it, which is really ingenious in that the first layer is a soft rubber for shock absorption that covers the device and leaves important ports exposed and provides a nice flap for the headphone jack that seamed to have been left out of Samsung's dust and water resistance sweep. Then after that layer the case has a tough plastic layer that sets on top of that initial layer that provides a firm grip, the section that your hands are normally station is of a rough texture vs the rest of the plastic.
I like this design as the phone feels comfortable in my hand and I have a firm grip, and because I have sweaty palms this case is perfect it does not trigger my sweaty palms as its nice to hold and comfortable and thats saying allot, the case looks as if it could take a beating and in no way it would cause dents and kinks if I accidentally dropped my phone. You should consider this Case a top choice for your device in case you are looking for a reliable and durable Galaxy S5 case for your phone.
[wp-review]
Designs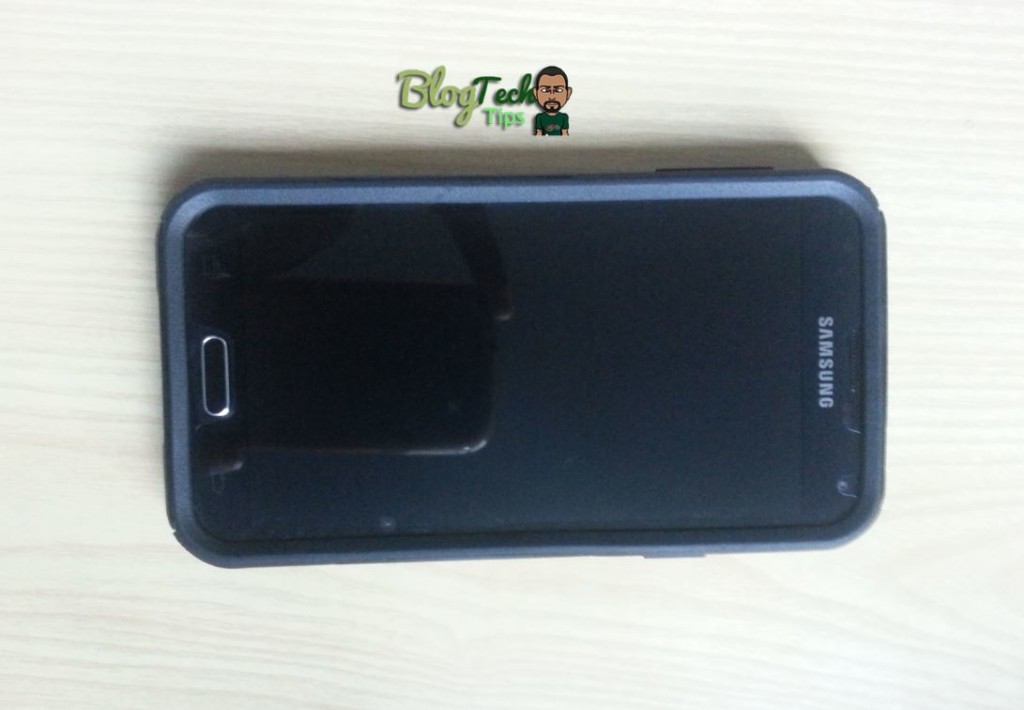 There are about 21 designs and color options that you can choose from, I went with the black but I suggest that you get the one with a gap at the bottom below the home buton as the one that do not leave that section off makes swiping the touch sensor in the home button a bit difficult but not impossible, so bear that in mind as you purchase. I like the otterbox [commuter series] samsung galaxy s5 case very much and there are other brands in the series as well but in my opinion this one offers the best balance and protection without being too bulky.
There is even a commuter wallet series that adds a storage area like a wallet for your cash and credit cards in case you are interested but I opted for the plain commuter version.
The Price
The OtterBox Commuter is more expensive than most cases but when you look at the premium quality that you are getting and great support the price is more than worth it in my book. Plus the case comes with its own screen protector so all you have to do is get it out the box install the screen protector and into the case the phone goes and you can have some peace of mind. Mine came from out of the box and unto my new phone which means it will be well protected and should I decide to re-sell my phone in the future it will be in mint condition and fetch a top price which is good in my opinion.
Otterbox Commuter series Gallery
Advantages
1. Excellent protection for your phone should you drop it.
2.Protects Audio port by providing protection from dust and water.
3.Great grip to protect from slippage.
4. Combination of hard plastic and soft rubber for maximum protecting your phones from shock.
5. Quality support, you will not find a better or well-known case manufacturer anywhere.
Disadvantage
1. Some versions of this case does not have a clearance at the base for easy finger swiping over the finger print sensor and this can get in the way.