If you have a Nexus 7 and it wont turn on for some reason especially if you allowed the battery to completely drain or have not been using the device for a long time we have the Nexus 7 wont turn on fix just for you to get your precious tablet working once again. There is nothing worse than when you need a device to use and issues like these arise and leave you in quite a bind as you don't know what wrong with your tablet.
Description of the Nexus 7 Issue
As the name of the issue and this post implies your Nexus 7 wont turn on after an extended period of not been used or you simply left it in a drawer and decided to use it all of a sudden and it wont power up. Also this can happen if you allow the battery to drain completely and it simply wont charge, let all admit that this one happens some times despite our best efforts.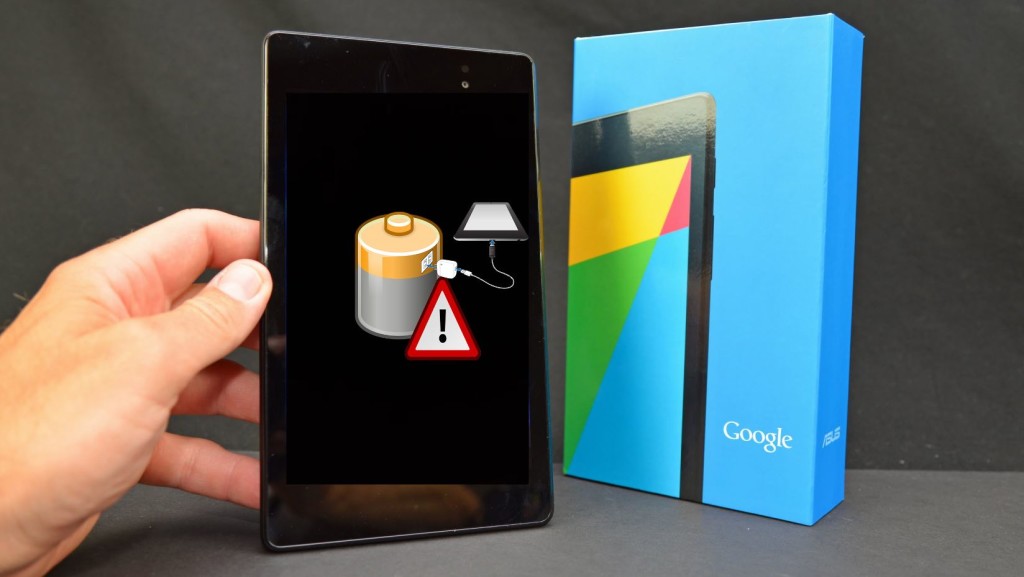 Why is this happening to Tablet?
The issue seems to be a slight manufacturing flaw with the batteries that seem to be notoriously difficult to recharge after the battery is totally drained or dead, this can be triggered when you use the device until it powers off or you leave the device for long periods without using it and the battery naturally depletes. A word of caution: never allow your tablets or other gadgets to totally drain completely to avoid incidents such as these.
Tablets this issue affects
This problem is infamous with the original Nexus 7 and the 2012 Nexus devices. It can also happen in any device that carries the Nexus name or Nexus 7 branding, especially if they use the same type of battery.
How to Fix the Nexus 7 wont turn on issue?
First before we begin please note that there are several things that you will need to do to get your Nexus 7 up and running once again but I suggest that you try them all in the order they are given until your device powers up:
Nexus 7
The issue with the original Nexus 7 is that when the battery drains totally and you plug it back in it attempts to boot but then as you see the Google logo it powers back off  or warns that there is not enough power then shuts down and does this in a continuous loop,  here is what you do in this situation:
1. Make sure the tablet is plugged in and has built up a little charge after about 10 minutes of charging (weather you see anything on screen or not) while the device is off press the power button to power on the tablet.
2. When you see the Google logo while still holding the power button hold volume down key. You will then boot into the system boot loader.
3. You will need to use the volume up and down keys to navigate and the power button to select, now cycle through the options until you find the power off option and select it with the power button and the device will power off.
4. disconnect the charger and allow it to sit for a while and then plug the charger right back in. Now the battery icon should appear on-screen and show charging. Simply give it about 15 minutes and then power on and complete the charge process.
Note: Some times you will need to try a variation such allowing the device to charge for a good while and then holding the power button for 20 seconds to power the device on and try the above method a few times before giving up. This does work but it does not always work on the first try.
2012 Nexus 7
1. For the 2012 Nexus 7 you will need to plug in the device and allow it to charge for about ten (10) minutes, I recommend that you use the original charger that comes with your device and do not be alarmed if nothing appears on-screen or you see the screen occasionally flicker every now and then.
2. After at least a ten minutes or so of charging unplug the charger and plug it back in again, you should see the charging icon appear on screen now and the battery animation showing that's its charging. At this point when it shows charging you don't want to disturb it, simply allow it to charge further for another 15 minutes or so.
3. Next while it plugged in you can now attempt to power on the Nexus 7 tablet, when it powers up  to the lock screen you should be able to see the charge progress percentage and that should fix the issue.
I hope that you were successful and you are very happy right now? Please let us know in the comments below and please never allow the battery to completely drain to 0% again as the problem could happen again in this case, if you do simply keep your device charged then you will not have an issue.