My desk was getting a bit messy as of late due to the fact that I had screws and small tools everywhere and I decided enough was enough when I was looking for a small item that I could not find. I then decided to pick up a Small parts Storage cabinet with 16 Drawers that I could use to store all my screws, small tools, flash drives and any other small item that would clutter my desk when I was doing a gadget repair. This Plastic Parts Storage Hardware and Craft Cabinet as the name suggest is also great for storing crafts items if you do a lot of crafts work as well.
Why did I choose the Small parts Storage cabinet?
For one I liked the look and feel of this small parts storage cabinet, it was small enough to fit on my desk and it offered a total of 16 different compartments which meant I could store a variety of items that could be easily sorted and found whenever I needed it.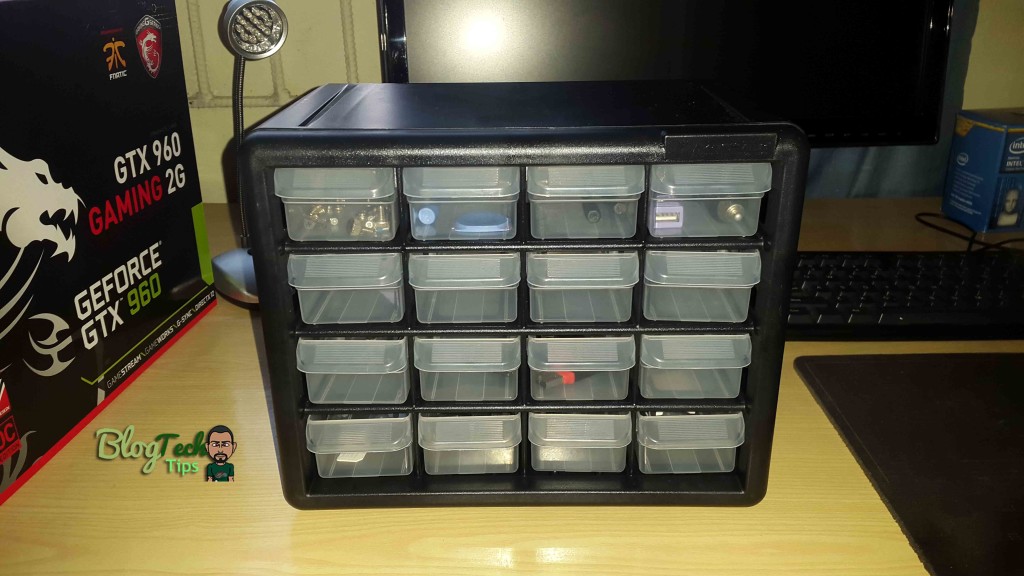 What is it Made of?
The Small parts Storage cabinet is made of reinforced plastic, the outer cabinet is a black plastic that very strong and rigid , while the drawers themselves is of a clear plastic much like kitchen ware that you can see through to identify the contents of the container.The drawers slide in and out easily and they all have their own separate compartments.
Overall I am loving this great desk or work area accessory as now my desk is organized and I can easily find small items that I use such as screws, little tools and so on which were once all over my desk. If I have one complaint about this item its in the back of the unit, instead of being a solid back there are cut outs,  the reason for this is not apparent as I do not see any benefit.
You can also wall-mount this small cabinet as there are four points at each edge that allows for that to be done easily.
How big is this thing?
In terms of size this thing is 10.5 Inch x 8.5 Inch x 6.5 Inch which makes it just the perfect size for a desk or work area without cluttering things up.
What can I store in this thing?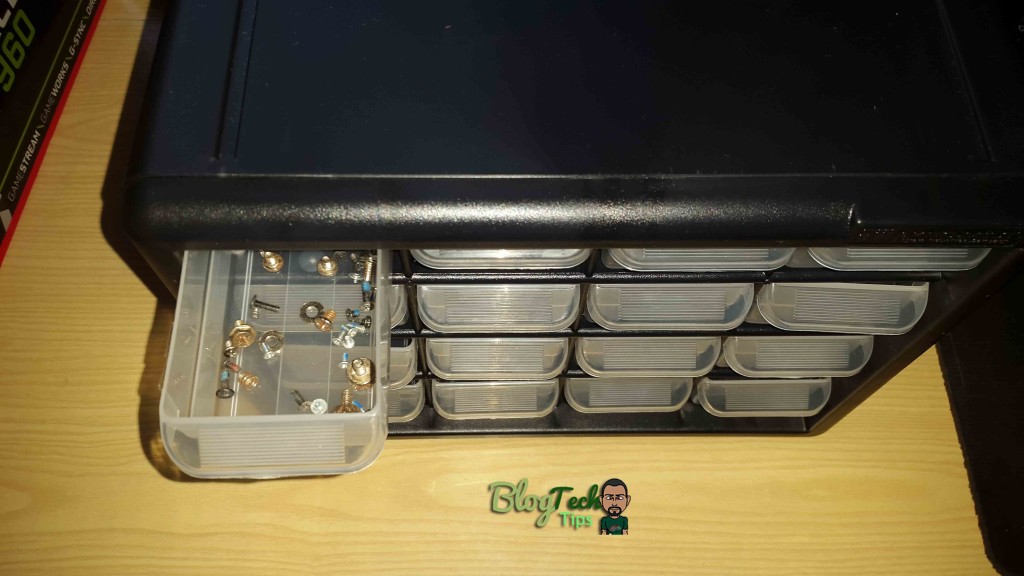 You can store any small items that you have a lot of for almost any hobby or industry that you are in, so you can store things such as: Markers, batteries, nuts, bolts, screws, Yarn, beads, clips, clamps, tacks, pins, staples, paper clips, elastic bands, sticky notes and any other small items that you may have a lot of that cluttering the surface of your desk or work area constantly.
The prices are also very cheap, you would do well in getting one of these great items right now and trust me you will not regret it as I love mine it's so convenient to use and work with in making your desk or work area clutter free. Please share your thoughts or ask any question that you would like on this item in the comments I would be more than happy to answer them.
Continue Reading we have even more Tips for you: