We all have been there for some reason your original Television set remote for some reason has bit the big one and does not work anymore and you decided to get a replacement universal remote for your TV set. But for some reason when you first get your new remote or later on you can't seem to program it correctly or get it to work, well I am here today as like you was faced with the same dilemma of: How to program RCA remote that I bought. Well you are in luck as I am here today to show you how to easily do this and more in simple to follow steps, especially if you lost your manual.
How to Program a RCA remote?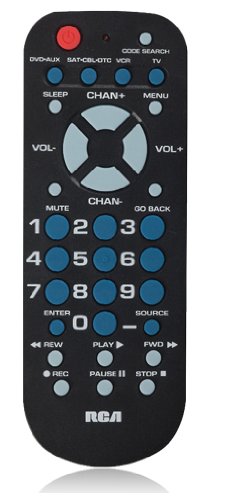 So here is the simple way of programing a RCA remote for any brand of TV, for reference I will be using my LG TV set as an example with my RCA RCR504BR Remote Control.

1.Make sure your RCA remote has in batteries and that it is working,now Power on your TV set manually.Press and hold code search button on the RCA remote, the red LED light will light up and stay lit, at this time you can let go of the button.
2. Next select the component like the TV, VCR that you want to control from the buttons on the remote, in my case that would be TV.
3.Now Punch in your 4 digit code thats related to your brand, for My LG TV the codes were: 1423, 1447, 0017, 0178, 2358, 2424. For me the first code worked so try them one at a time until you find the correct one. For other brands TV codes see the image below for your specific number.
5. After inputting the 4 digit code press power ON or OFF button on the remote, if the code is correct the TV will Power OFF, if not start over from step 1 and try another code.
Remote Control Codes
Here are the remote control codes in the large image below for the RCA remote arranged alphabetically with every major brand of TV covered from Samsung, LG, Coby, Sony, Sharp, and much more.
for this or other model Remotes if the above updated list fails then try this code list here .
So that should do it on How to Program RCA Remote Easily, it can be really annoying when you do something like a battery change and have your universal remote unprogrammed and you cannot find the code list or remember the code for your remote to connect to your TV and that's why I created this guide and also for those who just cant figure out their remote I hope you enjoyed. Please share your comments or ask a question below.
Continue Reading we have even more Tips for you: