Why over pay when you can get a cheap flat screen TV at less than market value or on a killer deal? Its simply common sense that if you can get something at deal and it will not cost you as much as buying it somewhere else then you should probably jump at the opportunity. I look around my apartment and each time I see something that I got on a deal I can actually feel great that I did not over pay for it, that also true when it comes to Television sets, there are so many manufacturers to choose from that you would be crazy to spend thousands of dollars unnecessarily when you can get a great one at a fraction of that cost.
What most people do not realize is that most of the ultra expensive televisions sets do not necessarily give better performance than one that cost half as much, and you know better and that why you have found your way to this article today, well at the end of the day you can pat yourself on the back that you got a great deal and you did not have to break the bank to get it:
Essential Features of a great and cheap Flat Screen TV
Great cheap televisions and more expensive ones all have certain common features and you should never skip on these features if you wish to have a television set that you can have for years to come without the need to upgrade before its time:
1. Super sharp HD display of 720p or 1080p or higher, these are the standard of high-definition displays.
2. LED or LCD Technology for more efficient energy consumption and a great picture.
3. 60 Hz refresh rate or higher for smooth motion on-screen especially for spots or action movies.
4. Great built-in speakers that offer adequate sound performance unless you are going to switch to external sound source.
5. (Optional) Smart TV functionality is not a must but it would be great if this was in place,other wise you can use your Laptop or PC  for added functionality.
6. Great Price: if the price is not right then this will make no sense whatsoever as why pay more than you have to.
7. Size: I recommend no smaller than 22 inches, with 32 inches been the sweet spot to start at and above.
Top selection of cheap flat screen TV Sets
1.Samsung UN22F5000 22-Inch 1080p 60Hz Slim LED HDTV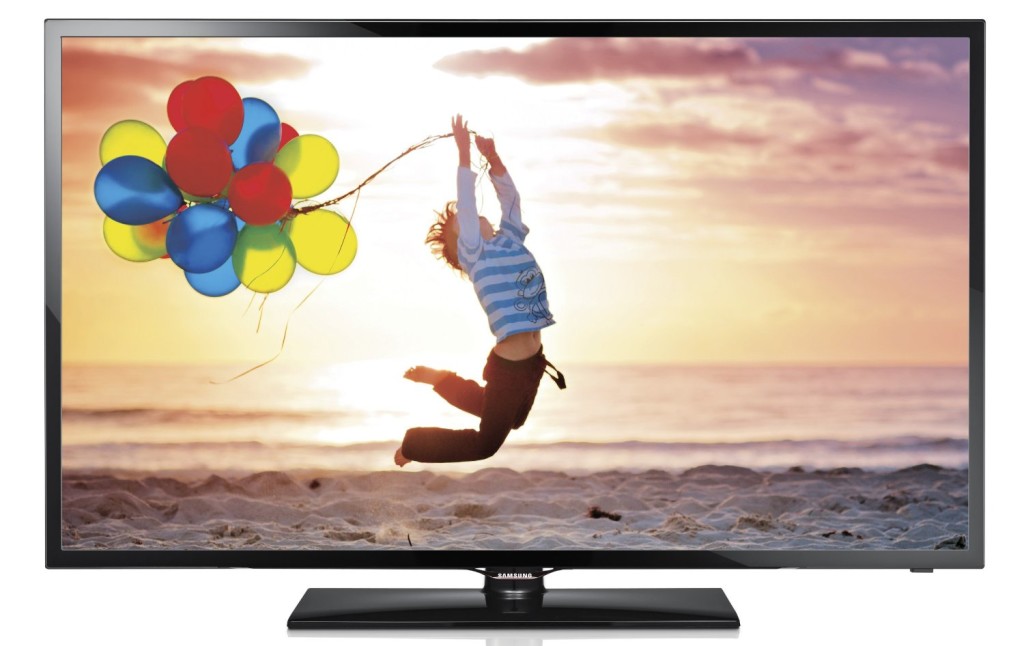 Samsung UN22F5000 22-Inch
These smaller Television sets are perfect for places where space is limited and you need a TV set such an office, kitchen counter top, small corner space in the house and so on. Don't let the small 22 inch screen fool you this cheap television is full HD at 1080p resolution for the best HDTV experience. Been LED and with a great refresh rate of 60 HZ its great for everyday TV viewing, trust me you will never complain about picture quality after all this is a Samsung TV. You can even pop your flash drive into this Television set and it will play your movies straight from the USB drive with no need for any additional hardware which can save you a lot of money. Comes fitted with HDMI and USB ports and all the standard TV connector for attaching your antenna. Even if you are not looking for a TV you can use this TV set as a Monitor for your computer, it's so flexible that if in the future you need to re-purpose it as a monitor or even use it for both now the choice is yours. What I like the most about it is the thin bezel that does not distract from the viewing experience.
2. VIZIO E241i-B1 24-Inch 1080p 60Hz Smart LED HDTV

Price Disclaimer
Vizio may not be a big name but do not underestimate or turn your head from this under dog just yet as it might surprise you. This cheap Flat screen TV is 24 inches boasting 1080p at 60 Hz, but that not the impressive part, it has a smart TV feature called VIZIO Internet Apps Plus which brings TV shows and movies right from the internet to you through popular streaming services so you will not be missing a thing. It has built-in Wifi which mean one less wire to your TV set.
When last have you see such a great priced TV set on the internet having so many features and cost so little? Plus if you do not like the size they go all the way up to 42 inches and the other models are just as affordable.
3. Samsung UN32EH4003 32-Inch 720p 60Hz LED TV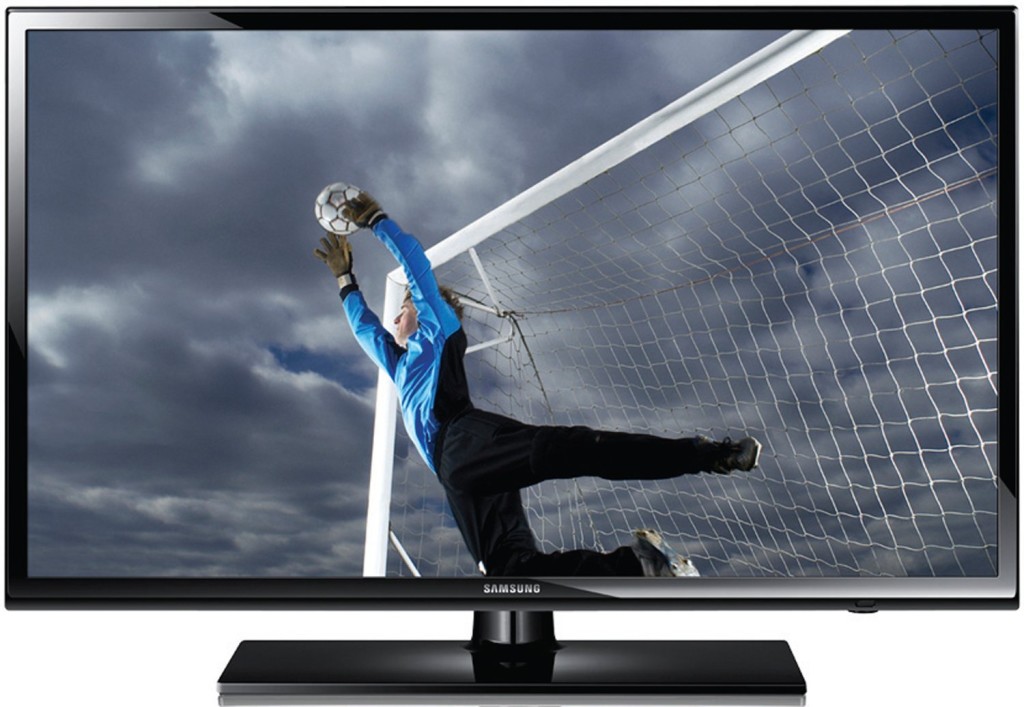 Samsung UN32EH4003
The perfect TV for your bedroom or a spare bedroom, you can even get away with this TV in the office or living room it's really your choice, plus it's a brand name TV from Samsung the makers of some of the best gadgets around. In fact this is one of the best-selling TV set that you can get in its size, no other TV set is cheaper or offer a better bargain for the performance, the TV is 720p and one thing you might notice on first taking it out the box is that its very light weight which makes it very easy to move around not that you will want to once you start using it, it comes with 2 HDMI ports along with all the other connections. In my opinion if you want a TV with a proven consistent track record stick with Samsung.
4. LG Electronics 42LB5600 42-Inch 1080p 60Hz LED TV
So we are finally stepping into the bigger TV units with the 42 inch TV from LG the 42LB5600 which is a thin bezled beauty to behold. Trust me Games will look gorgeous on this beautiful TV set once you have it setup correctly for whatever type of console that you might be using. This TV set gives realistic picture quality which is great for all sorts of viewing experiences. The on board sound is not what you would buy a TV for but its good to know it's there and these types of speakers on a TV are usually flat to those who like rich audio but surprisingly the TV audio was great giving excellent sound for an on board sound.
5.VIZIO E500i-B1 50-Inch 1080p Smart LED HDTV

Price Disclaimer
These are some of the cheapest televisions you will find for sale anywhere on the internet, being 50 inches with 1080p this TV is a very large unit and with the built-in Smart TV feature as the earlier Visio unit mentioned above you can enjoy your favorite streaming service from the TV without needing much else than the TV set and an active internet connection. There is also the 120Hz effective refresh rate which offer super fluid motion ideal for fast action movements on-screen with little lag. You will also notice that the border is very thin which does not distract you from viewing, you will love the rich color on-screen especially the very deep blacks and all of 3 HDMI ports for maximum connectivity.
6. Seiki SE50FY35 50-Inch 1080p 60Hz LED TV

Price Disclaimer
Can you believe the price of this TV set and look at the size,this is another TV I am sure you have not heard a whole lot about but for those who have they have quite nice things to say so far this is a great big TV for the living room that wont cost so much that it will keep you up at night, the TV produces great vibrant colors and is great for viewing movies as a family after all being 50 inches that a lot of on-screen real estate for you to work with, after Watching TV with such a large TV you will not want to view anything smaller,trust me.
7. Sharp LC-39LE551U 39-inch Aquos HD 1080p 60Hz LED TV

Price Disclaimer
Sharp has been a long time maker of television sets and you know they know their way around the TV department and what makes for a good TV set, You will have no issue with getting started with this TV set, right out of the box using it will be a breeze, for gaming you will have no input lag or delay between seeing on screen action and the time you pressed the keys. Plus come on look at this TV it's totally gregarious to look at, imagine when you have something shown on-screen.
Who ever said a brand name television set that large had to be very expensive have obviously never seen the Sharp LC-39LE551U.
8.TCL 40FS4610R 40-Inch 1080p Smart LED TV

Price Disclaimer
Another budget smart TV that not a cheap gimmick, ideal for streaming all your favorite shows and as always you can connect your flash drive and watch video or view pictures without a PC, you will not find a better deal on a TV set of this size and the TCL brand is getting more and more popular as an affordable and reliable TV brand. You will love the Roku TV feature for your media like millions of other users of the streaming service. The main selling point of this TV is the price followed by a great smart TV feature and good picture quality,you can check out the listing for more details.
9.Samsung UN48H6350 48-Inch 1080p 120Hz Smart LED TV

Price Disclaimer
I am proud to say that this is one of the best cheap flat screen TV you will ever see in your life, it's a smart TV from Samsung with 1080p HD and a 48 inch screen at 120 Hz refresh rate for an impressive and stunning visual experience, this thing is a beauty to behold and its very good-looking, even the stand catches your attention and holds it there, the bezels are razor-thin and the price is so good you will think you are dreaming.
The picture quality is excellent as expected and should you doubt that on observing the TV the first time make sure you tweak the picture setting for best results and you will see what I am talking about. The worst thing about most TV sets is buyer remorse and trust me if you spend the cash on this TV the only thing you will feel guilty about is that you did not get this TV set a long time ago.
10. LG Electronics 55LB5900 55-Inch 1080p 120Hz LED TV
The star of our show and the best cheap TV set that you can buy, also the only affordable TV in this size range that a steel, the price on this TV can only be described as stupid. You will be getting a brand name TV, 55 inches of viewable screen at 1080p and its LED for less than $1000 bucks, for the best viewing experience one could ask for in a home entertainment system. The only things that's missing is a smart TV feature and you can simply attach a Google chrome cast or Amazon fire TV stick and you will never miss that feature. The display is vibrant and very crisp for a beautiful color reproduction and beautiful picture. The blacks are deep so if that's a concern you will have no issue especially if you are coming from an older model TV set that's now outdated.
I hope you enjoyed our article I am sure you were able to find a TV set that was affordable and offered great performance and fit perfectly into your budget, we know how hard it can be sometimes to find a good TV set that can suit your needs and that of the entire family.
Continue Reading we have even more Tips for you: