Today I would like to look at how to fix an error that can happen on any Samsung Galaxy Device especially if you are using the brand new Samsung Galaxy S7 that says: kernel is not seandroid enforcing that can be seen in the upper left of your screen written in red on your device, you will also be unable to boot up your device in such situations when receiving this error. For today I will be looking into this error and various method that you can use to actually get rid of it.
This error is often called or also shown as: recovery is not seandroid enforcing, so if you are seeing either wording its the same issue and the following fixes should help in solving such issues.
Devices Affected by this Error?
This error can affect all Samsung Galaxy devices new or old such as the Galaxy S7, Galaxy S5,Galxy S4 and so on. This can also affect other Android devices such as Nokia, HTC and LG. Please note that this tutorial was written with Samsung devices in mind but the principles can still apply to other devices and help in getting them fixed.
Kernel is not Seandroid Enforcing Error fix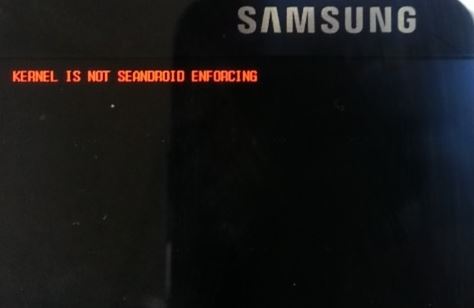 If you are seeing such an error then simply attempt the following methods:
Method #1:
If you are seeing the error: kernel is not Seandroid enforcing and your Samsung Galaxy has halted at the Samsung screen with the error being displayed then simply
Hold down the volume down + Power+ home button all at the same time and this will perform a soft reset which is most cases will cause the phone to reboot and the next time the phone boots up again it will boot as normal, as soon as the phone reboots you can let go of the buttons and allow it to boot normally.
Method #2:
If the above did not work you have a more severe issue and you will need to flash your phone which will delete all your data so be warned before proceeding.
1. Go to this website and search for your phones firmware by your devices model number.  Please note that you will need to download your Firmware based on your country or the country from which your phone originates. You will need to sign up for a free account and activate your account in order to get downloads.
2. When you are finished download Odin here the link is at the bottom of the page and unzip the file and launch Odin. Make sure that you have Samsung Kies installed so that your phone can be detected by your computer.
3. Also unzip the firmware for your phone that you downloaded and from Odin interface select AP and browse for the unzipped firmware file. Also place your phone in Download mode and connect it to your computer.
4. Allow the tool to refresh your phone and that's it after you are finished your phone will be as good as new and the error should be gone now.
Please leave a comment below or as always please share this article and remember to subscribe to the blog for this and other Tech tips and tutorials.
Continue Reading we have even more Tips for you: