If you are having the Android boot loop problems where your Android phone is stuck on the boot screen consider yourself lucky as you have found your way to one of the tutorials that can actually help you in fixing your device and free you from been stuck on the Android screen.
Full Description of the Issue
The problem is an all too common one where your Android smartphone begins booting then after the Android or Manufacturers logo the phone gets into a never-ending boot loop or your device just becomes stuck on the Android screen. Nothing seems to work in getting the smartphone back to functionality and the only way to power down the device is to pull the battery.
If you are having the problem as described above of:My Android phone is stuck on boot screen rest assured that the solution can be found ahead.
Devices that Can be affected by this Issue
The Stuck on the Android boot screen issue can affect smartphones of any brand that are ruining the Android operating system which includes the: Samsung Galaxy series of phones e.g. Samsung Galaxy S, S2, S3, S4, S5 and above, HTC, BLU  etc.
Once the device runs Android including Tablets then they may end up in a boot loop and become stuck on the Android screen.For this guide we will be using the BLU Studio 5.5 as a guide to show you how to fix your device.
Why is this happening to my phone?
The problem is caused by a corrupted or scrambled Android operating system, to fix the issue you will need to reset Android to its original state, be warned that this will erase all your data that's not backed up on your device and remove all the apps and personalizations that you have made to your phone. As always be sure to read all the instructions before you proceed.
Android boot loop fix
Power off your Android device, if it cannot be powered off by long pressing the power button then go ahead and remove the back panel and pull the battery. Doing so should force the device to power off.
1. Hold the Volume button up (In a few device it may be volume down) + the dedicated power button.
Side note: some device have a dedicated physical Home button if your device has this hold it as well
2. Once your Smartphones first logo or manufacturers logo flashes for the first time let go of all buttons except Volume up and you will be loaded into a special mode with a little Android guy on its back with an Exclamation mark.
3. From the options menu navigate with Volume key up and down, Find Wipe cache partition and the when that's complete go to Wipe data/factory reset scroll down to yes you are sure and allow your device to do its thing.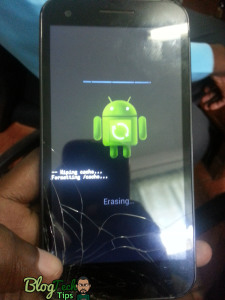 4. After the process has completed reboot your Android mobile phone and next time you boot it will no longer hang or be stuck in the Android boot loop/ screen where the device does not fully start up.
If for some reason the above did not work for you do not worry as in some case the phone can be experiencing a more severe issue that will require that you flash the stock firmware on the phone from scratch which will allow it to boot up fully once more and you should be able to use your device, otherwise:
Congratulations you have saved yourself a trip to the phone repair shop and a large bill and all it took was some common sense and a guide from BlogTechTips.com to fix your Android stuck in boot loop mode, all we ask in return is that you leave a comment outlining your experience and whether this article has assisted you or not. Best of all if you are having an issue leave a comment and be detailed as possible and I will definitely get back to you.