The ALCATEL OneTouch Pixi 3 is a very cheap and affordable Android phone. You can get it in most cases for less than $50 bucks. Which is a steal of a price if I ever saw one before. The phone also comes unlocked which means that it can work globally with any GSM carrier that uses a SIM card.
The real deal for this phone comes from considering the low price you pay for the features that are included which makes it worth considering.
Features of this phone
The phone has all the following features:
3.5 inch screen
2 Mega pixel camera
Runs on Android
Wifi
Whats in the Box?
Inside the box you can find the usual documentation and manuals, USB Cable, Adapter and the ALCATEL OneTouch Pixi 3 itself.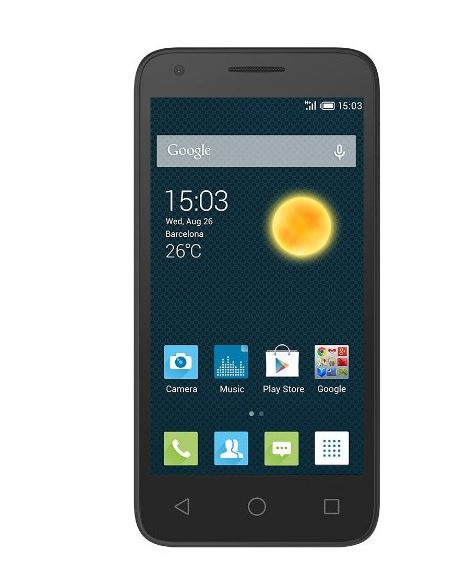 Who is this phone for?
You might think to yourself that why should I get this phone? well considering its so cheap and based on the specs it would be ideal for a child as a starter phone. This way they can have a great phone and it wont cost you a harm and a leg.It could also be used as a secondary phone for another network so you can have two carriers and take advantage of the deals.
Review of the ALCATEL OneTouch Pixi 3
The first thing you will notice about the Pixi 3 out of the box is how light weight it is. It takes a full size SIM card and can also hold a SD card up to 32 Gigs. Inside is a quad-core processor @ 1Ghz and its a 3G+ device.
The phone has a typical Android layout with Volume, power buttons and a loud-speaker in the back. At the top in the middle you have a 3.5 inch headphone jack so you can connect your headset to.
The device has Google Play installed right out the box so you can start installing your apps. All the Google apps are pre-installed seeing it an Android device which saves you the trouble of getting them.
WiFi and Internet
The WiFi connectivity is good and it does pretty well at internet browsing. It will not win any speed awards but it gets the job done. The quality and color reproduction of the screen is pretty good and pictures look really good. Again I go back to reminding you that for this price you will not be able to find a better phone.
Picture Quality
The picture quality is not awesome, but its more than good enough and clear. Basically it gets the job done at 2 MP.
It also handles YouTube and similar video streaming services good as well. This is especially true considering that you will only have your phone a few inches from your face. You will also get cool apps such as WhatsApp and so on pre-installed.
Why you should buy this Phone:
Super cheap.
Great for kids starter phone.
Cool features for the Price.
Lightweight.
Why you may skip this?
While it's a Good deal the faults I found was that it's not overly fast but fast enough and finally the camera takes OK pictures but they are not very high-resolution.
If you would like another similar phone that cheaply price and better specs I suggest you check out this one right here that we reviewed earlier that you might find interesting.
I do hope you enjoy this review, please take the time and leave a comment below. Also please share this article and do check out a few more post on the website, this is Ricardo saying take care until next time.
Continue Reading we have even more Tips for you: