A friend of mine recently asked me to help him in finding a cheap and affordable android phone and luckily I came across the JIAKE M8 in my search and decided to give it a try. This Android based phone is priced way under $100 bucks US and in my opinion is a steal of a deal considering all you are getting for the minimal price you are paying. I could hardly believe the price myself and can safely say this is one of the lowest priced smartphones on the market that more than worth the price.
JIAKE M8 Features
Before anything else lets look at what you will be getting with this device. This phone features a 6 inch 540 by 960 QHD IPS display and comes with Android 4.4.2 out of the box although some models have been recently updated to Android lollipop 5.1 out of the box which is really nice and smooth on the phones hardware.
The processor is a MTK6572 Dual Core clocked at 598.0~1203.0MHz with a  RAM of 512MB. The internal storage is 4 GB but you can install MicroSD cards of up to 32 GB to extend the memory which should be more than enough for your media consuming needs.
There is a front and a rear camera with the main camera outputting a max of 5 MP and video can be shot in 480p quality, you can judge the picture quality yourself from the video below. The phone is unlocked and can work with any carrier and can support any two GSM SIM cards at the same time. Best of all the usual connectivity and sharing features comes standard such as WiFi, Bluetooth and more.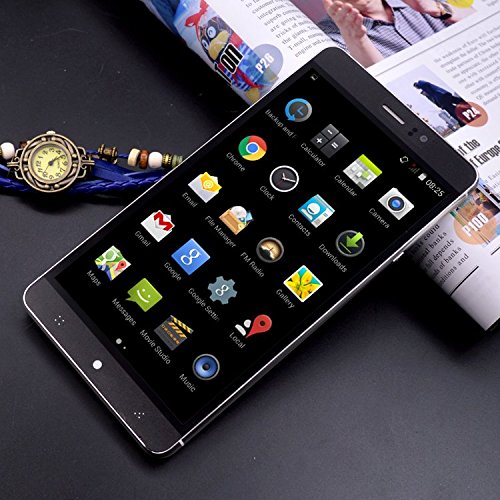 Whats in the Box?
You can watch the video of the unboxing below to see what this device looks like in action and also see everything that included out of the box.
The main contents of the box include:
Wall charger and USB connection
Free Screen protector
Free Case
User manual.
Ear phones
Whats the cost?
As I indicated earlier the price is way below $100 and I am sure you will be surprised as to the cost which you can check below:
My Impressions
I was very impressed with the very fast boot times out the box and the battery of the JIAKE M8 comes precharged which was a welcomed consideration and I hate having to wait for a new phone to charge initially before being able to use it. The phone was very snappy on boot and I was impressed with the speed and how snappy it handled, although this says little as devices tend to slow down over time as you fill them with apps thus I really would want to implore you to install only necessary apps and games. I also really like the build quality despite being made of plastic the outer layer looks metallic and the back looks almost like glass which gives the whole phone a more expensive look than its worth.
Pre-installed Apps
There are a variety of Apps that comes installed which was nice considering you don't have to install them such as WhatsApp, A flashlight and much more to get you right into enjoying your new device without painstakinly installing key social or communication Apps that almost everyone uses.
All the other cool Apps include the Android standards such as music player, YouTube and a slew of Google apps including a FM radio which is always a welcomed addition for those radio buffs among us.
Freebies
Their are a bunch of freebies out the box that sweetens the deal even more including: a earphones, case and screen protector which saves you the problem of buying or considering to buy one. The case is a bit thin but its great for protecting against scratches although I would not put it to the test in a fall so be aware of that.
What I hate about this device?
The built-in RAM is limited at 512 MB and I wish it was at least double the size that's included. I really like this phone and this one flaw hardly ruins the great value and do remember this is a value and I kept that in mind as I used the phone and did this review.
Conclusion
Overall the JIAKE M8 is a one of a kind phone that's priced at a point that I never though possible without sacrificing user experience but some how the designers of this phone managed to pull it off and as such I would easily recommend this phone to someone seeking a value smartphone, heck why get one at these low prices you can get two and give one away as a gift to a friend. .
Why you should buy this phone?
1. Ridiculous low price.
2. Great performance to price.
3. Looks great and as if its a premium quality despite the plastic construction.
Continue Reading we have even more Tips for you: