It seems that every other day or so I am seeing a new phone brought in for repair that has some variation of the stubborn Trojans. The latest and newest ones I am seeing are the:Beach Kiss,Kiss me,Hot video Virus. These Viruses are usually picked up from infected .apk files. That's Why I must implore my readers to please either download your Apps from the Google Play store or from a trusted source.
Its easier to prevent this Trojan than to actually remove it. I can personally say that it took quite a while to deal with this virus which is very similar in nature to one we dealt with earlier that's called the sexy Virus as it seems to be an improved version. Removal will take time and patience, so let me first warn you. If you give up easily I suggest you take the device to a repair shop. Otherwise if you want to know how to remove Beach Kiss,Kiss me,Hot video Virus and Trojans easily then follow this tutorial.
Warning!!!
Never Click on the Ads that you see on-screen, this can lead to further infection and make your situation worse. The earlier you can catch this virus the easier it is to remove before it downloads additional malware.Do not wipe or reset your phone this will not remove the virus. The virus will also appear in safe mode.
Effects of this Virus on My Phone: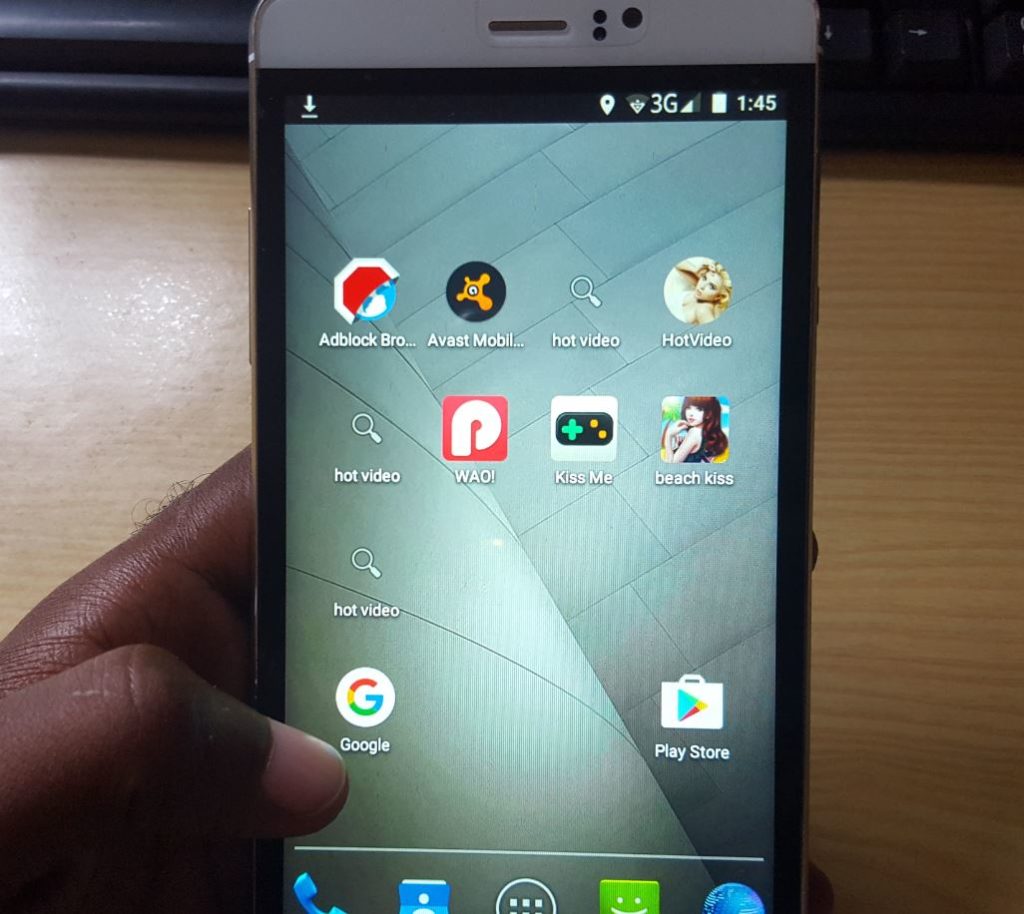 The effects of this virus on your Phone will include:
1. Display ads will popup on the lock, home screen and any other screen of your device constantly.
2. Apps will download in the background without your permission.
3. Additional virus with advanced privileges will also install themselves.
4. The device will slow down significantly. It will be difficult to do anything on the phone including installing new apps.
5. Phone may restart without warning.
6. Phone may hang up or lock up on you.
7. Apps install screen may pop-up without you initiating them.
Tips to bear in mind as you follow this Tutorial
If for any reason you are getting frustrated and can't follow this tutorial as the Viruses and popups are preventing you from progressing,try the following:
Disable the internet until you need it.
Reboot the phone and go straight to the App you want to run after boot up.
Close the Ad on the screen with the "X" or use the home button to escape.
If the Antivirus is scanning and can't finish as it gets minimized and has to restart every time then: keeping playing its interface or scroll up and down in the menu, or keep hitting the scan or kill button. Close any simple notification windows that may popup.
What will you need for this fix?
For this Fix you will need all of the following files without exception:
You will also need internet access for your phone.
How to Remove Beach Kiss,Kiss me,Hot video Virus and Trojans easily?
1. Download the two files above as recommended.They will be .apk files, you can use your phone directly or download them to your PC and transfer them to the phone by USB or SD card.
2. First install the KingRoot.apk, this will give you root access which is needed by Stubborn Trojan killer to work properly. Do note it will not be easy to install due to the pop ups but it can be done. You will have to go to setting and check install from unknown sources before the install can commence. Also note it may fail the first time so don't give up if it failed the first time. Background apps can also interfere with rooting causing the install to fail.
The following video demonstrates how to root any device easily:
3. The next step after being successfully rooted will be to install Stubborn Trojan killer. The process is the same as with the above app, again enable unknown sources if it's not still enabled and install the app.
4. Once finished do a scan, the app may ask for super user access go ahead and grant the app access for it to work. Without super user access it will not work. As soon as it detects the Viruses and finishes scanning then hit kill and it will remove the viruses.Be warned that the process might get interrupted by popups which can stop the process. Keep the window open by playing with the interface.See the detailed tutorial in the following video:
5. It's not uncommon for the Stubborn Trojan killer to return a clean result and it's not clean this will happen when you are not connected to the internet. So be sure to connect to the internet for it to work 100%. Also be sure to scan multiple times and kill the viruses that you find.
Also delete the weird icons you see on the desktop and don't click on them. All the downloads and ads should disappear and your device should be virus free.
I do hope you were able to remove Beach Kiss,Kiss me,Hot video Virus and Trojans easily. This virus is very common and is difficult to remove. So do use the comment section to ask me anything. I will be more than happy to assist you in any way I can. Also consider sharing this article and subscribing to the blog as we do regular tutorials and video just for you.
Continue Reading we have even more Tips for you: