The Android porno Virus or Sexy Virus is a really annoying virus that can infect Android phones and make your device really slow. I first encountered this virus when a friend of mine contracted the virus on his Android phone which was a Samsung Galaxy after using an App or .apk file sharer which ended up with him somewhere along the line picking up a malicious app and he became infected.
What does the Android Porno Virus or Sexy Virus look like?
The Virus infects your phone and you will notice apps that were not there before appear on your home screen and you did not install them. The Apps are usually named with the word sexy in them along with provocative picture that will tempt you into clicking on them.The names you might see include and are not limited to:
Love Beauty
Sexy Hot
Sexy
Lutu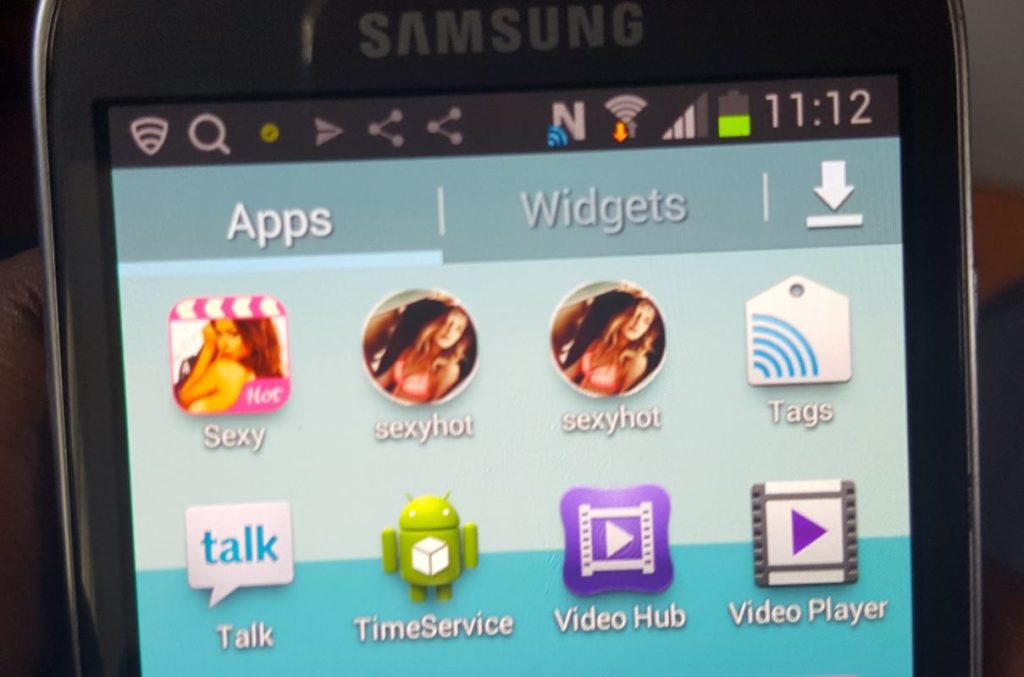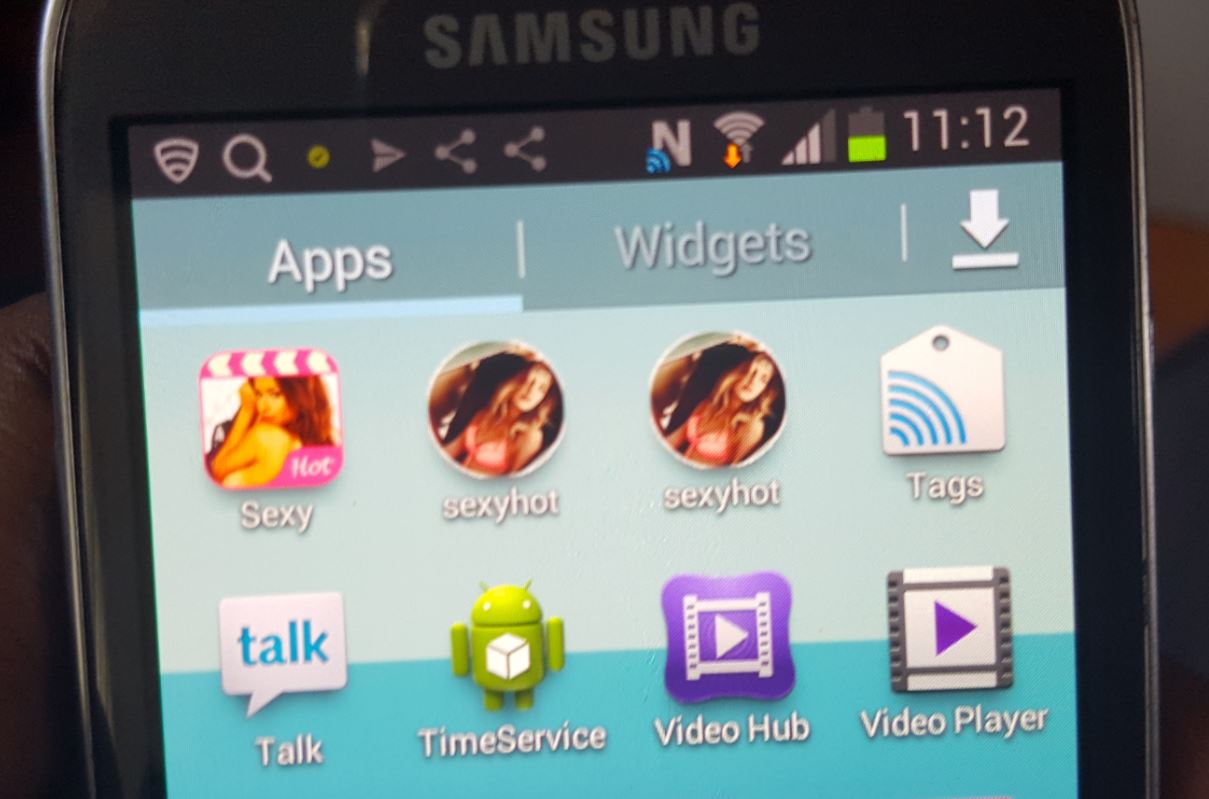 and so on. Your device will slow down significantly and you will see ads pop up on your home screen from time to time. The initial virus will also download additional apps to your device without your permission as you might see new apps just appear.
Resetting will Not work!
If you attempt to do a hard reset as most people might think of right off the bat it will not help as soon as you go through setup once more you will notice as soon as the reset finishes and the device loads fresh from start the virus will still be there.
Devices Affected:
If you are on Android you can end up getting this Virus and this includes popular devices such as any Samsung Galaxy device including Galaxy S7, Galaxy S6, Galaxy S5, Galaxy S4, Galaxy S3, Note 4,Note 5,Note 3, Galaxy Mini series and so on.
How did I get Infected?
In most cases users installed an App from an untrusted third-party that was infected with malware, so only install apps from trusted sources in the future.
How to Get rid of the Android Porno or Sexy Virus?
In order to get rid of the virus try the following in the order given:
Method 1
1. You will need to manually download the .apk file for the Antivirus: Lookout here.
2. Once its finished downloading place the file on your phone using your PC and from your phone browse to the file and install it.
You will have to allow the installation of third-party apps in settings for the install to complete.
3. Once finished installing then launch the app and allow it to set up fully and update. When finished scan your phone and when it detects a virus choose uninstall. You will have to do this several times and don't worry if your device freezes up just give it time and keep pressing the buttons on-screen until the click registers.Also make a note of all the file names that pop up on-screen you might need it for the next step.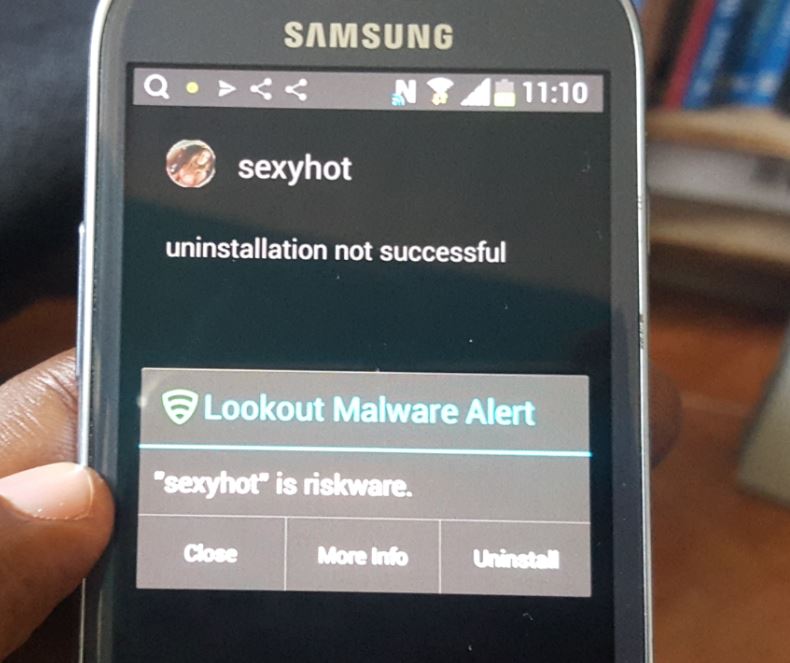 4. That should be enough to get rid of the Virus in some cases if not read on.
Method 2
If all else fails then :
1. Go to settings and then Applications or Apps.
2. From here you might need to go to :Application Manger and swipe over to All.
3. Now search manually through the list alphabetically for the apps by name that the Antivirus detected above and that I told you to note earlier and click on the name in the list.
They may include names like in my case:
engrils
BeautyVideo
or other strange apps written in chines or Japanese and the names I gave in the first part of the article that match the icons of the Apps on the desktop.
4. Once in the menu then Force stop and uninstall.
5. Repeat this for all the named apps from earlier you recorded.
6. Reboot after you are finished and that should do it,if not go on reading.
Also its to be noted that if you can't uninstall any of the Apps that you have identified to be viruses then you will need to perform the above steps in safe mode as shown here.
Method 3
If you still can't get rid of this virus then you will need to perform a Flash of your device and reload the firmware or ROM from scratch. You can check out these tutorials here that might help:
A. How to Flash any Samsung Galaxy
d. Flash Jiake M8 as seen above in the video.
If you tried the above and the virus fails to uninstall every time then this method is much better and highly recommended for you and will work in most cases.
OK that's it and do remember to prevent this in the future do not install any Apps from sources that you do not trust as they may contain nasty surprises such as these viruses. Please leave a comment below and share this article and do subscribe to the blog for more tech tips.
Continue Reading we have even more Tips for you: