When I come across a great App or tip I just have to share it with my readers. Recently I came across a Great free VPN and by far its the best I have seen. I have recommended VPN Apps in the past but I just had add this one to the list as its one of the best I have ever seen and I had to rearrange my list of the best Free Unlimited VPN services that you can use right now that I had in my head. This one specifically works on mobile and is meant for your Android smartphone.
What is a VPN?
A VPN or Virtual Private Network is used to increase your Privacy as well as your security as you browse the internet. It can mask your Internet activity making harder for you to be tracked and make it seem as if you are located in another country such as the United States when you are not.
Benefits of a VPN: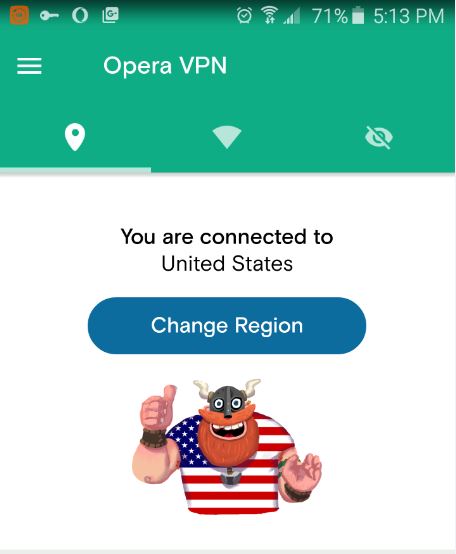 A VPN offers many benefits and there are paid as well as free versions out there, but for this article I am focusing on a free offering and who doesn't like free right? The benefits of a VPN include:
1. You can browse the internet Anonymously protecting your identity and personal information.
2. Mask your IP address.
3.Browse as if you are in another country or as if you are in another location.
4. Bypass internet filters or access blocked websites.
5. Improve your security.
6. Hide your online activity
Best free VPN
The best free VPN that I am recommending to you guys that's unlimited is: Opera VPN which you can download here. The creators of this VPN service is the same creators of the popular desktop and smartphone web browser you might have heard of. It's so easy to use all you have to do is download the app and connect. It can protect you and your privacy on mobile data or WiFi connections especially public WiFi.
Its fast,you can choose the country of your choice,prevent advertisers from tracking you,better security and provides much more.
What do I use this VPN for?
I personally keep this App on my phone for cases where I have to use a public or unknown WiFi connection, it protects me and my personal information. The last thing you want is some third-party spying on you.  You also get a better browsing experience and that added layer of security that seriously lacking online these days.
You can pay for a VPN service or you can get this free and unlimited VPN and enjoy the best of both worlds, you decide. I really like the interface and the Viking character of this App it adds a unique element and things are well laid out and organized for easy use for new users.
Final Thoughts
OK guys please do me a solid and share this article. Also please take the time and also leave a comment below sharing your experience with the Opera VPN App.I am sure you will love it once you give it a try as its a very good app as the others created by Opera.
Continue Reading we have even more Tips for you: