It's not very often you come across two (2) great offering from the same company. Well today I have quite the surprise of two Apps that I have had the pleasure of testing. These apps are by far the best VPN and App lock for Android that I have come across. They both do different things yes,but ultimately they do them so well that you will not need another app outside these two. So if you require a Good VPN or an APP lock let me show you why you should be using either of these apps. Better yet you should have both installed as I do.
Also note before we begin that both Apps can be found for their respective ecosystems of Android or IOS. So if you use either an Android phone or an Apple iPhone you can still enjoy the benefits of each app.
Rocket VPN
Rocket VPN is a free VPN service and can be used to browse the internet anonymously. This is achieved as the service encrypts your data  which greatly improves your privacy over a regular open internet connection. You do however get 500 MB per month free which should be more than enough for your web browsing in privacy. If you need it though you can buy the unlimited package which is well worth it. You don't even need to sign up for anything simply download the app connect and browse.
Choose a Country and Unlock the Internet
You can choose from a variety of countries such as USA,France,Japan and so on. When you do this you will be able to browse as if you are located in these countries. When you do this all geographical restricted will be lifted and you will be able to browse uninhibited. So content that was blocked based on location you will now have access to through the VPN service.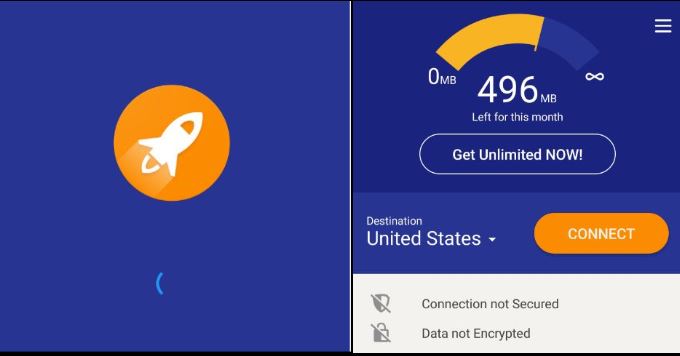 After connecting to the desired server in the country of choice those on Android can use Rocket Browser to browse which will massively improve their security online. Even if you don't use Rocket browser once you are connected to a server any app or data coming to or from your phone will be run through the VPN until you disconnect which is good for privacy.
Why Rocket VPN is better
The best thing about this service is that they don't share your connection with other users unlike most other VPN services that do, let them go unnamed for now. This means a better and faster connection for you that's not slowed down to a snails pace. Using Rocket VPN I was able to browse several sites I could not access before. This can be very great for those who travel and need to access services online back home. It can protect your privacy when on a foreign network and prevent identity theft and give you peace of mind.
Hexlock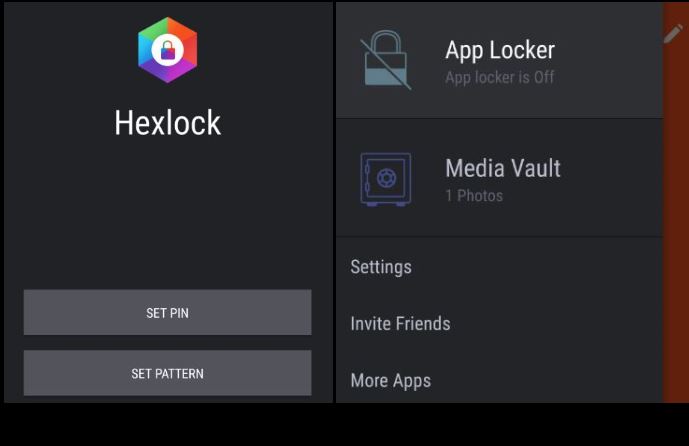 I really like Hexlock it has a very clean and updated interface. It's also very easy to understand and intuitive. Within a few minutes of installing it I already got the hang of it and the key features. Firstly it allows you to store private Pictures, videos and other media away in the Media Vault securely. You know those pictures and documents on your phone that are for your eyes only (wink). Next cool thing you can do is also password lock any app you choose. Even if is not a feature of the app you can go ahead and lock it.So finally you can prevent the kids for example from messing with settings or making purchases they should not be making.
Did I also mention that this App is totally free of cost. Yes it is. Where things get really cool is that you can change the type of lock you desire such as a PIN, Pattern, fingerprint and so on.
Change Profiles with the swipe of a finger
It's also a great  custom App Locker. One of the things I have always hated with other Apps lockers is that they are convenient for general situations but can't be tailored for different environments. Here comes Hexlock you can simply swipe between profiles with a flick of a thumb from :Work to home and more. Best of all Apps you have locked for home can be left open for work. Long and short is that you can keep different Apps locked for various situations under different profiles which is very cool. After all you may have stuff you may not want anyone to see at work, while those at home are cool to see them.
You can also add additional profiles if you need them for:Party,school,Cafe and parental control. So basically you can have a profile for every situation varying what you have locked. Also while those profiles are the default you can create your own custom profiles. Also adding icons of your choice.
Super secure
You never have to worry once your personal files are inside the Media Vault. Why because all your data will be encrypted and password protected. You can choose fingerprint security,pass code or you can choose to load predefined profiles once you connect to a WI-fi in a certain location to prevent having to manually switch. All these and more can be activated in the settings menu that's super easy to navigate and understand. You can even enable uninstall protection in case someone tries to uninstall Hexlock for some reason.One thing I found cool was if you or someone else try to take a screenshot in App it will be stopped for security purpose which is very cool.
Download Hexlock right Now for Android
Conclusion
You simply can't go wrong with either Hexlock or Rocket VPN. They are both easy to use with intuitive clean and modern interfaces that are easy on the eyes. When you get down to it there is a lot of power full technology behind these apps and the developer Liquidum did an excellent job in designing such powerful tools and making them this simple to use. Just go ahead and try either and you will see what I mean. I guarantee they will meet and even exceed your needs and the best thing is that they are free. I would not have believed it had I not used and tested them both extensively for myself and that's why I highly recommend them both.
So guys did you give these app a try? I am sure you were please do share your thoughts and feedback below in the comments and how you have benefited. Even if you have a similar app to any of the above I ask you still give it a try. I am sure you will switch to the better option. As always please share this article with a friend if you found it useful.