Today I will be looking at the Instagram Error:Sorry, there was a Problem with your request when you try to sign into your account. This error is preventing many users from signing into their account. Today I will be showing you guys how to fix the problem.This solution should work for many users and help them in accessing their account again so they can continue to use Instagram.
The Problem
It seems many users is getting an error with Instagram when they try to log into their account. Many speculate that the issue is caused by the many updates that Instagram has been getting causing an error. This is speculation however but the problem seems to arise for many when they try to log back into Instagram and get the error :Sorry, there was a Problem with your request and then the option to dismiss the notification and no clue how to fix the problem.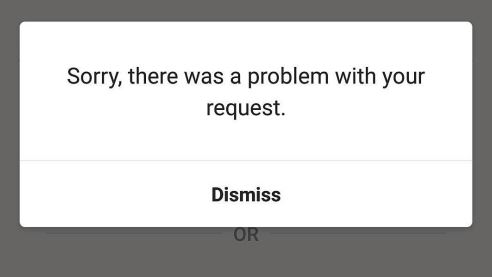 How to fix the Problem?
Now if you are getting the error and you are unable to log in on your phone you still may be able to log in on your computer through your browser.
1.Go to Instagram.com on your computer  and log in as you would on your phone.
2. Next go to your profile by clicking the user icon in the upper right.

3.Next edit profile and choose the option to Temporarily disable my account.
4.Give a reason, the last option should work fine and then enter your password again to confirm and proceed. Note you can only disable your account once for every week.
5.Now this is key leave your account for 4 hours. After this you should be able to log back into your account no problem from your phone.
Final Thoughts
This is only a guide and meant to help those who are getting the error get access to their accounts once again. Please guys if you found this article useful please leave a comment below and do remember to share this article and check a few more post out on this website.
Save
Save