So guys today we will be looking at how you can Easily Restore Samsung Device Firmware with Smart Switch. So what we will be doing is using the smart switch tool from Samsung to Unbrick or restore your phone or device. what this tool does is to simplify the flashing process and makes things much simpler for the end-user. So any one should be able to flash their phone using this guide once you have a descent internet connection. The program will find your exact Firmware for you and update the phone.
This method is simpler than using the much more technical Odin software which can also be used also to Flash your Samsung devices or phones as well.
What devices will this work on?
This will work on all new devices such as the Samsung Galaxy  S6, S7, Galaxy S8 and Note 7, Note 8 and so on. This should also work on tablets as well from Samsung.For older devices you need to read this tutorial here.
In What cases can I use this Tutorial?
In case you want to Unbrick, restore, Un-root, remove viruses and much more. This will completely wipe the phone and reinstall the Android operating system from scratch so bear that in mind.
What You will need?
1. A reliable computer with Internet access.
2. Download the Smart Switch Application for your computer.
3.Original USB cable for your Samsung Phone.
Video demonstration:
Watch the video to see how its done or read the instructions below and follow along.
How to restore any device Firmware with Smart Switch?
1.Power down your phone and place the device in download mode as shown here.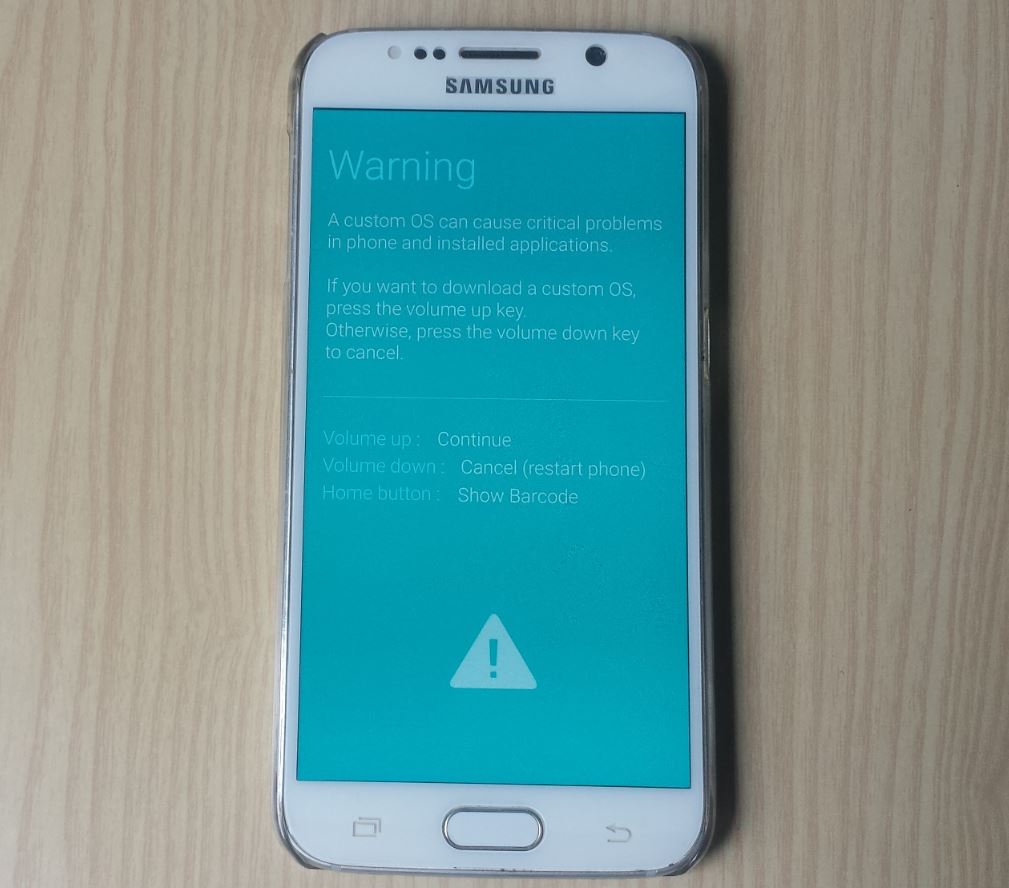 2.You should see a screen as above in the picture when you get into the mode.Now you are going to press the Home button and you should see your devices Serial number and IMEI. Record both Numbers as you will need them both later on. This is one of the best ways to retrieve both numbers especially when the phone cannot boot up. The IMEI is also usually printed on the back of the newer devices as well in fine print at the bottom.
3.When you are finished recording the numbers you can go ahead and hit the Home button again and you will be in download mode with an arrow pointing down in a box.Look in the upper left of the screen you will see The product name or Model number  record that as well as you will need it.
4. Next go to your computer and download Smart Switch from here or above and install the application which is pretty straight forward.
After Install Launch Smart Switch and go to More and choose Emergency Software and Initialization.Now click on the device Initialization tab. Be sure to read the warning and be aware this will erase all your data from the phone.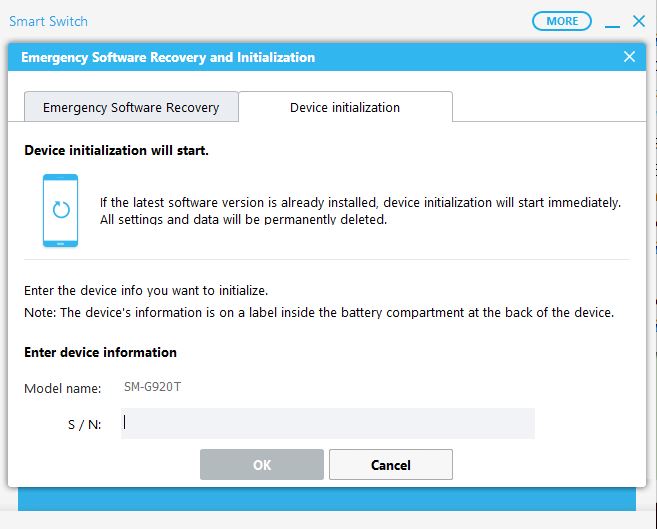 5.Now enter your device Model Number which you recorded earlier. Hit OK when complete and then enter your serial Number and then hit OK. Read the warning and hit OK again. You will be informed of the software download for your phone simply confirm.
Do note that the file is large and it will take some time to download the file,the faster your internet is it's the better for this process. Otherwise you will have to exercise patience.
6. The next pop up will inform you to put your phone in download mode which we already did when we retrieved the IMEI and Serial number you only need to attach the phone by USB cable that's in download mode.
Once connected the grayed out button should change to an active Blue button. Drivers for your device will be automatically installed by Smart Switch. when ready hit OK and the software will begin download of the file which can be 2 GB or larger (Yeh that big) leave the phone to do its thing.
7. You can track the progress from the percentage on the computer screen of the download. Once download is complete the flashing process will start and when completed your phone will auto-restart and an Android guy will appear on screen, allow the phone to do its thing. You can also disconnect the USB cable when the computer says so or leave it in.
When the phone boots up for the first time it will take longer than normal so don't panic. Simply set your phone up once again and that's it your phone should now be good as new,
Warning!
1.Never Interrupt the Flashing process while its going on.
2. Don't bump or disconnect the USB cable.
3. Make sure your phone has full charge before you begin.
4. This may take any where from an hour on a fast connection to days if your Internet is really slow so try to get access to a very fast Internet to save time.
Final Thoughts
So guys if you love this tutorial go ahead and share it on social media and also leave a comment below I would love to have your feedback as usual. Please also take the time to check out a few more articles as well as that would be great.
Continue Reading we have even more Tips for you: