So today I got my hands on my first Fidget Spinner. The actual one was a very nice Rainbow colored Fidget Spinner which has a very unique rainbow pallet of colors splattered all over the three-point or pronged spinner. I must say at first I was wondering what the big fuss was about with this latest fad. I soon got one in hand and I can now see why they are so popular as it's quite fun to play with and spin. So in case you are wondering I am one of the freshly converted.
Rainbow Colored Fidget Spinner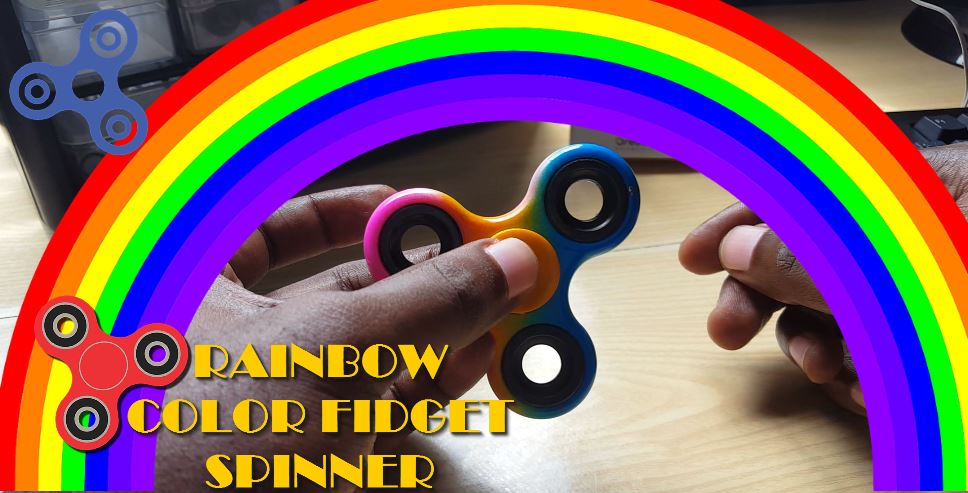 You can watch the video below to get a better idea of my experience with the fidget spinner. I simply love the Multi color patterns of this one and in case you want one like it see the section below. This particular model is made out of steel and has a nice weight to it. The center piece is made out of plastic and the three outer prongs has a hard inner circular hub.As you can see too the color of the rainbow paint pattern has sort of a splash or a multi color paint mix look to it that's really pleasing to the eyes.
When the center hub was disassembled there was a steel ball bearing to the center which was tightly set in place. Both halves separated quite easily for the plastic center piece. During the Spin test I wanted to see if I could get a faster spin from a Hand or Table top spin. When both tests were timed the hand spin produce a time of 50 seconds and the table spin gave a whopping 1 minute and 14 seconds. This was because on the table we had more leverage for the spin thus the better overall performance.
Watch the Video For Yourself:
Check out the Video below
Where can I buy one of these Fidget Spinners?
Looking for a cool and unique Fidget spinner like mine? then check out my top pics of Rainbow Color Fidget spinners.These are all great mix color Spinners.
1.
2.
3.
Do you like Fidget Spinners? whats your favorite type? I suggest you give them a try either for your self as a means of stress relief, a gift to a child or just to kill some time as you wait,I found it very relaxing and soothing to play with as you feel your troubles melt away as you spin this thing. It's a quick distraction for the mind and can help you to calm down. You can't really see the appeal until you have one of these it hand and take it for a spin so to speak.Kids are also instantly drawn to it even if they have never seen one before so do check these out.