Whenever you install or try to install third-party apps from outside the Google Play Store you will need to enable unknown sources to install the app. This feature is put in place to protect users from unknown apps that may contain malicious code without the user's knowledge.
You can actually disable the feature and install any app you want once you know it's from a credible and safe source. If you want to know how to disable or enable the feature read below.
Unknown Sources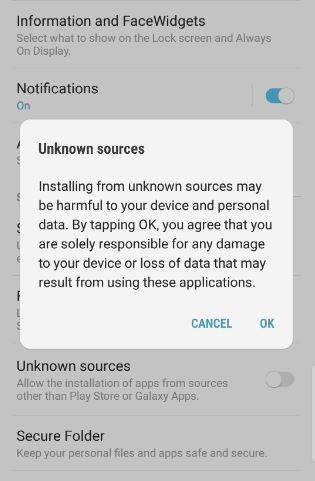 The information in your device on Unknown sources reads:
Installing from unknown sources may be harmful to your device and personal data. By tapping OK, you agree that you are solely responsible for any damages your device or loss of data that may result from using these applications.
Video Demonstration:
Watch the video below to see how its done.
How to Enable or Disable Unknown Sources to Install Third Party Apps?
1,Go to settings.
2.Next select Lock screen and security.
3.Look for and enable Unknown sources. Conform after reading the warning about unknown sources if you agree and want it enabled.
That's it you can go ahead and try installing the .apk or app you were trying to install from before that was being blocked.
Final Thoughts
So guys I hope you now know How to Enable or Disable Unknown Sources to Install Third Party Apps. It's a cool thing to know if you install apps that's not from the Google play store. Please take the time to leave a comment below and also be sure to check out our other articles as well. Feel free to share our content on social media as it would be greatly appreciated.
Continue Reading we have even more Tips for you: