Today we will be looking at How you can Change Samsung Account Email Address on Galaxy S8 or on other similar devices such as Galaxy S8 Plus, Note 8 and so on. This is to help those who may want to switch to another Email because the current one is incorrect or you associated the wrong Email and so on. This will also work for whatever reason else you may want to change the email for as well. You can read below how to do this step by step.
How to Change Samsung Account Email Address on Galaxy S8?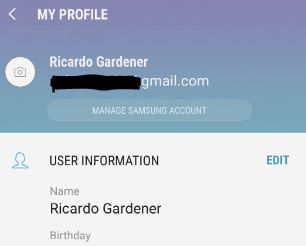 1.Go to settings.
2.Next Go Cloud and accounts.
3.Next select My Profile.
4.Where is says User Information go ahead and click edit. Where it says Email go ahead and delete the old Email and enter the new one.
5.When finished hit save in the upper right. The new Email should now be implemented.
Alternate Method:
You can also under the same setting click on: Manage Samsung Account but this one requires internet access and is done online. You will need your user name and Password before you can gain access through. Once you login successfully you can change the Email ID field with the edit option.
Final Thoughts
I do hope you successfully Change Samsung Account Email Address on Galaxy S8 as shown above. If you need any additional help you can ask for it below in the comment section and as always do share this article and check out even more of our posts that we have.