Have you ever noticed that your Contacts list is riddled with Multiple duplicate contacts? Well its true for me and at large many users that exist out there as for various reasons we have the same number more than once, As we import our contacts from multiple sources after getting a new phone or wiping an old one to use again after an issue, But whatever the situation you can end up with multiple entries for the same person in terms of their phone number and even email.
Below I show you exactly what to do in order to easily deal with this problem and get your contacts list into one neat list for all those who just have to keep thing really organized.Follow me now as I show you How to Merge Multiple Duplicate Contacts into one on Samsung Galaxy S8.
Why do this?
Jokes aside other than making your contacts list more organized it can reduce clutter and make contacts easier to find. When a duplicate contact is merged it also leaves valuable space for another contact and it can prevent confusion as you wont have one persons number twice and possibly under different names.
Will this also work on other Android devices?
Yes this will Work on any Samsung Galaxy and should also be available in other version of Android as well. Without a doubt it can be found in the Galaxy S8,S8 Plus, Note 8 line of phones.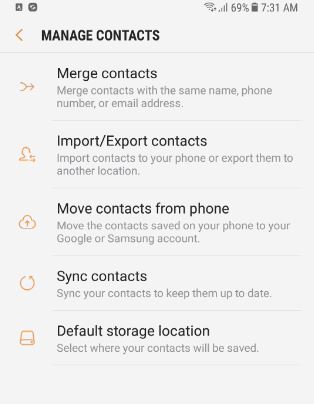 How to Merge Duplicate Contacts into one on Samsung Galaxy S8?
In order to Merge contacts
1.Go to your Contacts on your Samsung Galaxy.
2.Now tap on the vertical menu in the right with the three dots.
3. Now from the menu choose Manage Contacts.
4.Now select Merge Contacts and after loading you should see all duplicate numbers displayed on screen organized. Go ahead and check one of the numbers or multiple if you wish and then click the merge option that will appear in the upper right.
5.After a short while you will get the message that the contact has been merged. You can keep doing this in he future to get rid of duplicates.
So that's it basically on How to Merge Multiple Duplicate Contacts into one on Samsung Galaxy S8, S8 Plus,Note 8 and other similar Android or Samsung devices. Please as always if this tutorial was helpful in any way then keep sharing the love by sharing with a friend. I would also really appreciate it if you could also check out a few more articles and leave a comment in the comment section asking any questions you like.
Continue Reading we have even more Tips for you: