Privacy is a big deal in today's world and while your web browser keeps track of all the websites you have visited its great to know that you can always delete the browsing history whenever you like. Luckily for you if you have a Galaxy S8,S8 Plus or other similar device I will be showing you How to Clear Web Browsing History on the Galaxy S8. This is the same thing as the Internet browsing history.
Why Clear Web Browsing History?
There are many reasons you may want to clear your Browsing history which includes to make sure that other people who use your device don't see what you have been looking at, searching or the websites you have visited. This may be because you are planing a surprise or you don't want other to snoop into your private business.
How to Clear Web Browsing History on the Galaxy S8?
Please note that this guide is in reference to the default web browser that comes installed on the Galaxy S8 and S8 Plus which is identified as Internet Browser or just Internet.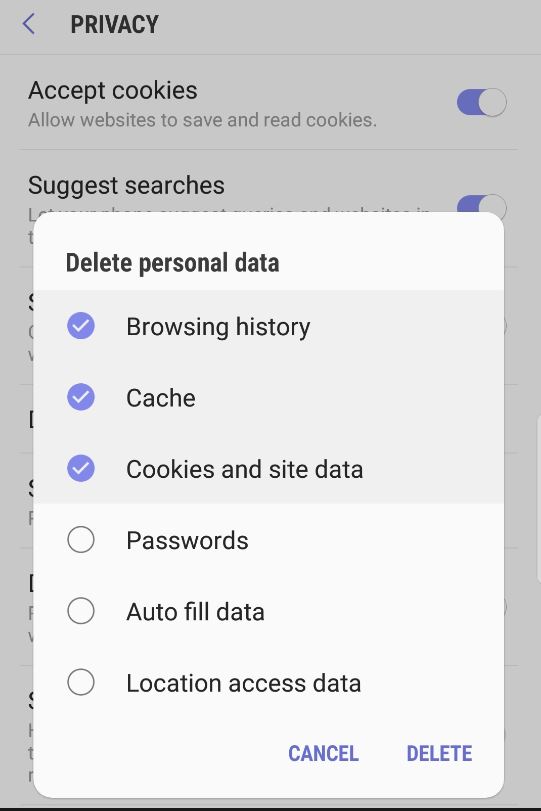 1.Launch the Internet.
2.Now click the three dots in the upper right.
3.Swipe down and go to settings.
4.Next go to privacy and then select delete personal data and finally hit delete on the window that pops up.
That's it your browsing history is now cleared.
Clear Web Browsing History on other Browsers on Android:
Learn to clear the web browsing History on other Browsers as well on Android Such as.
1.Clear Browsing History on Chrome Browser Android.
2.Clear Web Browsing History on Firefox Android.
Video Demonstration:
Watch the following video to see how its done.
What did I just do?
Ever notice that after using a browser for a while as soon as you try to type in an address it simply pops up as you have visited it already. Also if someone that had access to your computer wanted they can tell which website was visited and on what day. By doing this you cleared all your browsing data which erases all the websites you have visited from the phone for that particular browser.
Final Thoughts
That's it for How to Clear Web Browsing History on the Galaxy S8. Please take the time to comment, share and check out more of our content here on the website. If you have something to add to the article you can do so in the comments below.
Continue Reading we have even more Tips for you: