So recently I got a Nintendo 3Ds XL that would not connect to WiFi no matter how hard we tried. We wanted to update the system and download a Game but no matter how hard we tried it would not connect for a device that should have simply connected. I am sure you know exactly what I mean as that's why you are here right now.
Reason why your Nintendo 3Ds may not be connecting to the Internet?
Believe it or not the issue may be more with your Internet configuration and hardware than the Nintendo 3DS itself. Other devices may connect fine but the Nintendo 3DS is very peculiar and may be the device to show up your devices configuration problems.Although you would think Nintendo would make a device that simply connects to a working WiFi network without issues.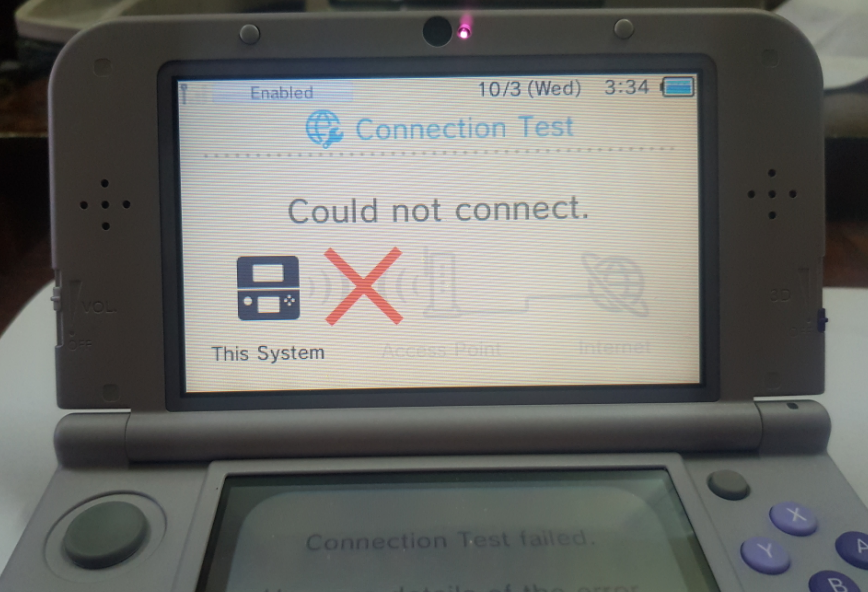 Nintendo 3DS XL Not Connecting to WiFi Fix
So if you are faced with the issue as identified above then you will want to try first what I did to fix my issue as now my Nintendo 3DS connects to the Internet fine.
1.If your 3DS or 3DS XL is not connecting to the internet go ahead and try another Internet connection. Either borrow a friends connection or if you are using secondary devices to share the internet around the house connect to the main Internet connection with the Hardware provided by your Internet service provider or ISP.
My issue was finally fixed when connected to The router at Home with the original hardware provided by my ISP. At work I am on a secondary connection which provider Internet with an after market router that's only used for generating internet.After this the process that was giving so much issues easily connected and was working flawlessly.
2.Every situation is different and if the above fails then check your router configuration for Wireless or WiFi settings. You can try changing the frequency on which your router is transmitting, routers usually have several configurations so try them all until you find one that works well with the 3DS.
3.Another cool thing you can do is use your smartphone as an Internet connection by using the tethering feature that use your mobile internet to allow other devices to connect.
4.You can also use a Laptop or Desktop with a Wireless card to create a virtual WiFi connection using a Hotspot software and use that as a means for your 3DS to connect as easy as possible.
Do remember
Do Remember that while there may be a small chance there is something wrong with your Nintendo 3DS  it is still highly unlikely. The Nintendo 3DS XL is simply very sensitive and it can connect to WiFi networks easily but those that it likes. Nintendo should really look into the issue and fix the problem in an update or design their devices to work more seamlessly like most phones and other devices.
Do share this article and comment below I actively monitor the comments and will surly get back to you with any questions you may have.
Continue Reading we have even more Tips for you: