I recently had an issue where I need an alternative to my wireless modem which would allow some devices to connect and not others. With that in mind I decided to create a WiFi Hotspot. I know you might be thinking its expensive to do such a thing but it's actually quite easy and free. When I was finished I was able to connect all my devices from my desktop and see the devices that were connected and control the internet with the click of a button. In this article I will show you how to do the same.
What you will Need?
If you are on a Laptop you already have everything you need.
However if you are on a desktop you may need these things:
1. A WiFi Dongle or Wireless Card.
2. With the Desktop or Laptop you will need a Wired Internet connection which goes without saying.
Special Note
Do be warned that in the case of the Laptop or Desktop you will be unable to connect to a wireless connection as the WiFi will be in use. This is because its being used to create or broadcast the WiFi Hotspot signal. When the App is exited the your Wireless will return to normal.
How to Create a WiFI Hotspot for free with Desktop or Laptop easily?
Once you have all the things mentioned above you will need to:
1. Install the following free App on to your Laptop or desktop from here.
2. Once download is complete then do a clean install.
3. Next insert the USB dongle into a USB port and make sure its working, if not you may need to install the drivers. If you PC has a Wireless card it will need to be installed and working. Laptop owners need only to install the App.
4. Make sure you are connected to the internet on the desktop or Laptop by a Wired connection.
5. Launch the WiFi Hotspot App you installed earlier and the interface will look like the picture below.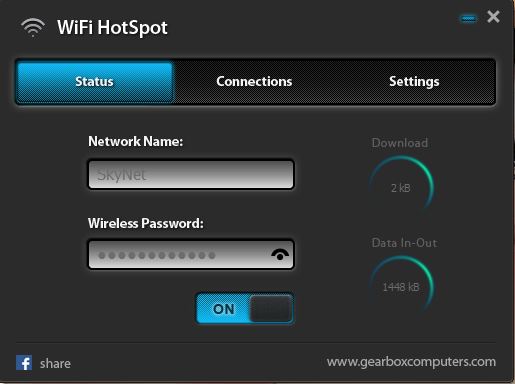 All you need to do now is on the status tab give your network a name. Also specify a Password and toggle the Hotspot to on. That's it you can now connect using your Smartphone,Tablet,Laptop or other Wireless device.
What can I do with this WiFi Hotspot?
With this Wifi Hotspot you will be able to
Have total control over your WiFi.
See devices that are connected.
Limit the amount of devices that are connected at any given time.
Turn the Hotspot on or off at the click of a button.
See Download speed and data in and out.
Control When the App starts up.
Give your Hotspot a name (SSID) and password.
Troubleshooting Tips
If for any reason this is not working for you try the following:
If you cannot detect or see the Network simply toggle the App on and off with the On/Off button. Also you can exit it and launch it again.
If the above still fails make sure your WiFi card or dongle is installed properly or simply download and install the drivers. If it is you should be able to see Wireless networks or modems that are broadcasting around you.
I do hope the tips above have been useful. I also hope that you were able to successfully create a WiFi Hotspot as I did. If you have any questions please post them below in the comments section. Also please share this article and do check out my other posts.