So OLALA was nice enough to send me one of their latest products for review in the form of the OLALA C2-i 6000mAh Power Bank. I must say having reviewed a few of their products in the past that this one is a big jump in design and quality, as the product screams Premium quality and superb craftsmanship.
What you get out the Box?
The box contents is the usual presentation of a brown cardboard box with a while sleeve with the product information slapped over the front and you can see a preview of the OLALA C2-i. Inside the product is well packaged with a plastic protective mold that surrounds and protects the battery bank as its transported. You can also find a charge USB cable, manual and that's about it.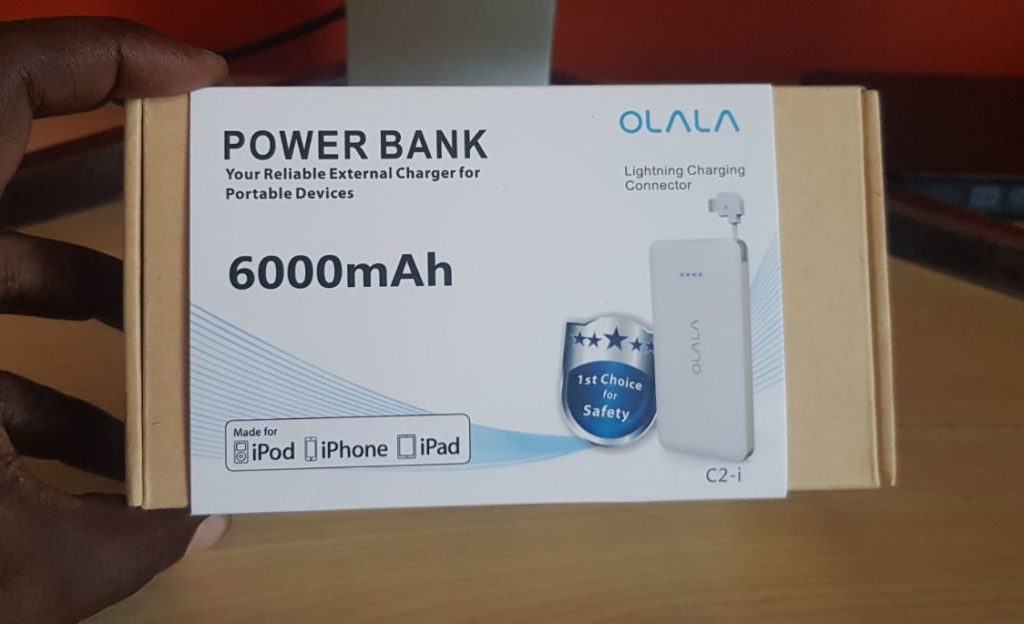 The OLALA C2-i 6000mAh Power Bank
I must say holding the OLALA C2-i power bank in hand really threw me for a loop as it very Slim and lightweight to the touch it feels so smooth and good. It also has a very premium look that resembles Glass and metal in white that's highly polished. This look really compliments the premium Quality and feel you would get with an Apple product which this devices comes capable of charging easily out the box.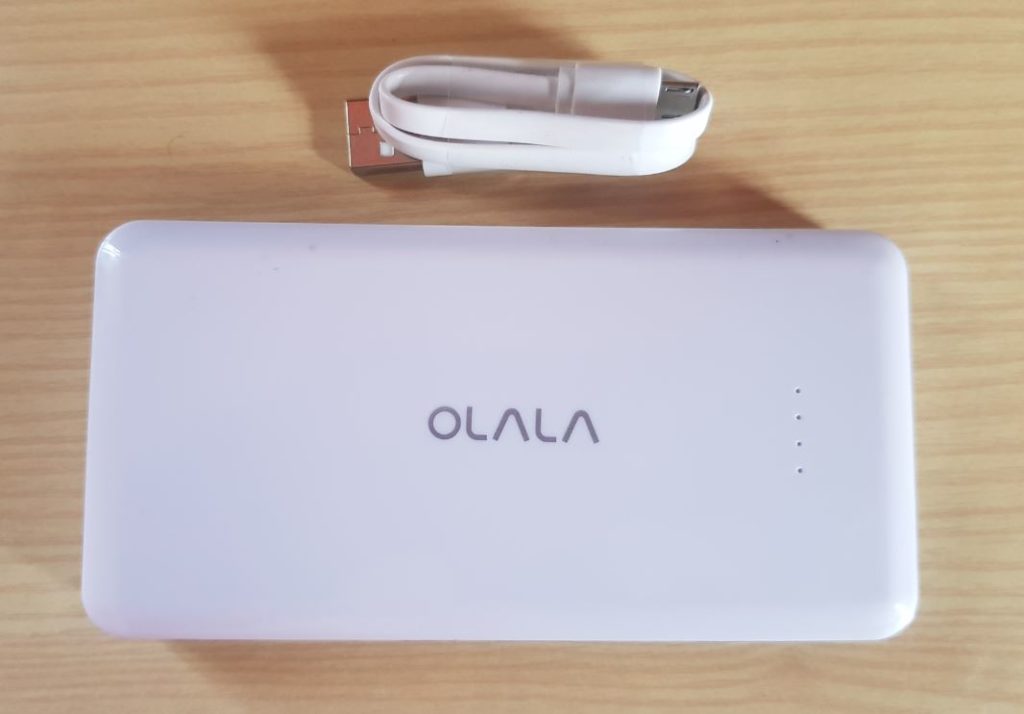 I love the tuck away Lightning charge cable that's built-in. You simply pull it out and it can charge any apple product that uses a lightning connector. It also has a regular USB out port to supply power to a variety of other devices. You only need connect your regular charge cable and the amount of devices this 6000 mAh power bank can charge then goes through the roof outside of iPod,iPhone and iPad.
Leave your Charge Cable at home!
One of the best features of the OLALA C2-i Power bank is the built-in Lightning Charge cable that supports all iOS devices. This means if you have an Apple device such as a iPhone,iPad or iPod and so on then its ready to charge without you needing to carry those long cables.
Being lightweight and slim means it can be stashed into a bag, purse or pants pocket with ease. I love that it's also looks right at home beside any Apple device as if it was made for it.Best part is that it has a variety of safety protection technologies that protects against over charging, Short circuit and a variety of problems that would plague other battery banks out there.
Specifications and charging
The OLALA C2-i Battery bank Outputs 5V/2.4A on the USB outlet and takes 4.5 hours to charge up. With the 6000mAh capacity of the battery bank you could charge the Galaxy S9 which has a 3000mAh battery twice. The iPhone X has a 2,716mAh capacity and it can charge your device about 2 times easily. For any other phone you only have to look at the battery capacity in mAh and divide by the capacity of this battery bank.
My Impressions
Over all I love the OLALA C2-i 6000 mAh Power Bank, it's far from perfect but what they did get right is the design. It looks really good and is eye-catching. Th built-in charge cable was also a great idea and really saves time and trouble if you have a iPhone with this device and it still will work with other phones and devices.
It takes a time to charge but which power bank does not. You simply have to leave it to charge overnight or when you have the time the choice is yours. I love picking it up as it always looks way heavier and then you are relived as soon as you have it in hand as its light weight and has a great feel. My only wish is that it had come in a larger capacity so I could charge more devices or more times before it needed charging. The LEDs on this device also clearly shows how much charge you have remains so you can track your power usage.
Video Review:
Check out the video review of this great product.
Buy Now
You can purchase yours now at the link below.
Reason to Buy this device:
1.Great premium design, look and feel.
2. Includes a built-in Lightning Cable for charging Apple products.
3.6000 mAh battery which can charge your phone in most cases twice.
Other Deals from OLALA With Discount Coupon Codes:
Check out all these cool deals with major saving that you can get right now.
1. OLALA MFi CERTIFIED QUICK CHARGE 1M LIGHTNING CABLE
50% OFF Reg: $7.99
$3.99 ONLY AFTER CODE 50OLALA1RO
2. OLALA BLUETOOTH 4.1 MAGNETIC SPORTS EARPHONES 
50% OFF Reg: $30.99
$15.5 ONLY AFTER CODE OLALA50BU
3. OLALA ID101 USB 3.0 MEMORY STICK 64GB 2IN1 FOR IPHONE IPAD AND COMPUTER
50% OFF,Reg: $42.99
$21.5 ONLY AFTER CODE 50OFFOLALA
4.10000mAh OLALA S102 PORTABLE CHARGER WITH LIGHTNING CABLE
50% OFF,Reg: $36.99
$18.5 ONLY AFTER CODE 1OLALA50