So todays article will be focused on the Galaxy S10 Unknown Sources Updated Location and how to install .apk files. Its good to know how to do this as you will be able to install third party apps that are downloaded online as .apk files.
Before proceeding make sure that any files including .apk file you download come from a trusted source and are safe. The last thing you need is a malicious file posing as a app.
If you files is safe then you can proceed with the tutorial directions as written below.
How to find Unknown Sources setting on Galaxy S10?
To find the Unknown sources setting or Install unknown Apps go ahead and :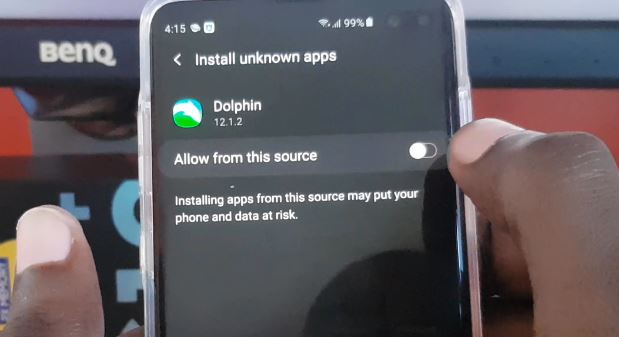 1.Go to settings.
2.Select Biometrics and security.
3. Next select Install Unknown apps.
4.From this screen you can find the App you need select it and toggle on:Allow from this Source to have unknown apps installed from the desired location.
For example if you downloaded the app to your phone directly find My files then turn on the Unknown apps permission for this location. This way anything that's installed from said location will install directly without being blocked.
OR
The same setting as above can be found too in:
1.Go to settings.
2.Then go to Apps.
3.Click the three dots upper right and select Special Access.
4.Now look for Install Unknown apps. From here find the source the .apk will be installed from and select it and allow the install of unknown apps.
Video Tutorial:
Watch the video tutorial and see exactly how its all done.
How to Install .apk files Galaxy S10?
The best way to Install .apk files Galaxy S10 is to :
1.Download the desired .apk file to your Samsung Galaxy smartphone.
2.Find and launch the file or click on it.See my files, APK folder and look in Download or Apps. If you know the name of the file try searching.
3.On launch a message will appear to say: For your security,your phone is not allowed to install unknown apps from this source. Click settings and allow from this source and then hit back and install the app.
The app should install fully and without issues and that's it.
Before You Go
Before you go then do us a solid and share this article on Galaxy S10 Unknown Sources Updated Location and how to install .apk files, it would be appreciated.
Please comment below and do check out our other articles as well. Until our next article.