There is a new built in feature in the Galaxy S10 that you may not have noticed. It came about when the Galaxy S10 was updated last and adds a bunch of new features.
One of these main features is the addition of a Built in QR code scanner and now a QR code that's auto generated to use in sharing contacts if you know where to look.
How Can I use this new Feature?
Well for one you will never have to memories or type in a contact again manually. You can add any contact or share any contact with a friend in seconds.
Video Tutorial:
Watch the video below and see everything being done one step at a time or continue reading.
How its all done?
Lets get started right now.
1.Unlock your phone and go to the dialer.
2.Go over to Contacts and search for a contact you want to share.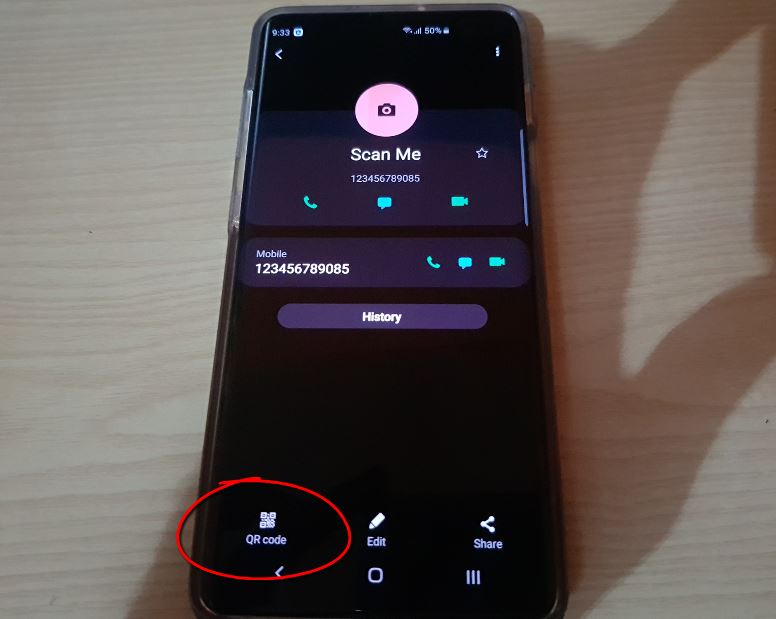 3.When you find the contact tap on the Image Circle or on the text then click the i symbol. You should see a screen as in the image above.
4.Select QR code from the new screen. If you don't see the screen the contact may have to be stored on your phone for it to show up. A new screen will appear with a scannable QR code to share the contact.
5.Now if the other device is another Galaxy S10 read this post to find a built in QR code scanner on your device. If the device receiving the contact is not a S10 then download a QR code scanner here.
6.Once you get a QR code scanner simply use it to scan the Code and tap to add the contact information to your phone easily.
Before you Go
Please take the time now and share this post on Scan QR code to add contact Galaxy S10 New Feature. It would be lovely if you could comment below or share this article. We also have lots more articles so do see those before you leave.