There is a exciting new feature called AR Doodle and you can use this new feature if you have a device such as the Galaxy S10, S10 Plus,Note 10, Note 10 Plus and so on.
So if you have one of those device and want to check this feature out then simply follow my directions.
What is AR Doodle?
Air Doodle as the name suggests is a Augmented Reality feature that allows you like Instagram Face Filters that overlays on your face cool effects. The difference is though that you actually do custom drawings or doodles that move with your face in real time.
So you can draw a hat on your head, draw glasses and so much more.
What deices doe this Apply to?
The feature is installed by default on the Note 10 and Note 10 Plus. As for the Galaxy S10, S10 Plus you can get the feature by updating your phone to the latest software updates.
The new camera features with AR Doodle is available as of September 2019 update. So if you don't have the feature simply update your phone to the latest version of Android to get it.
Video Tutorial:
Watch the video tutorial below to see this new feature in action.
How to Use AR Doodle?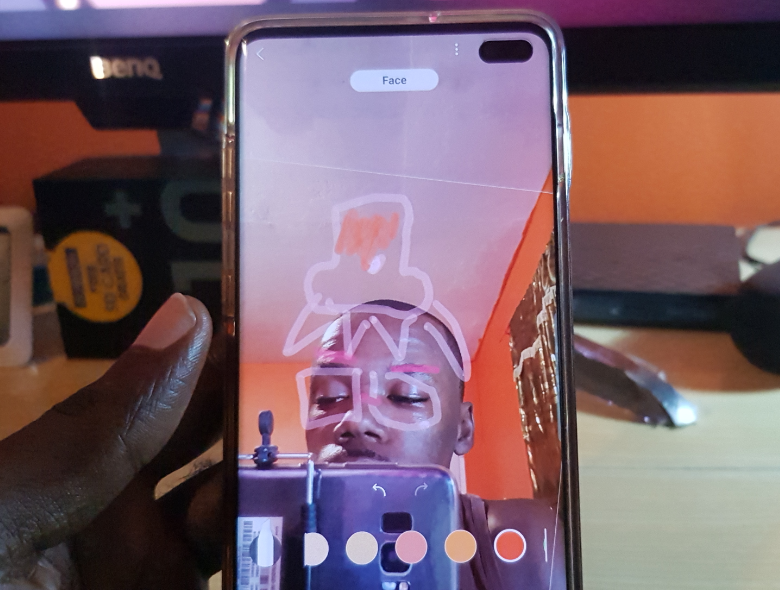 To use AR Doodle go ahead and do the following:
1.Launch your Camera.
2.Go to Video mode in the camera.
3.Now look at the top of the screen and look for the last icon on the right. The icon looks like a scribble with a focus lock or a kind of box around it with just the edges.
4.Find a face to point the camera at. I suggest using your own so switch to the front Camera.
Use the pencils on screen to start drawing on your face. You can switch the colors and so on. Notice that the scribbles or doodle you make move with your head.
What do you think?
So what do you think of the AR Doodle feature? Please share your thoughts in the comments and also share the article as well. I would love if you could also check out some of our other posts here on the website.