Needing a really solid Screen protector for the iPhone 11 I went with the Purity Screen Protector for Apple iPhone 11. This is one of the best cases out there for the iPhone 11 that money can buy.
It comes with everything for a trouble free install. Best of all it will give you the feeling at the end that it was expertly installed or done by a professional.
What You Get?
You do get the screen protector and a install guide, cleaning cloth in dry and wet, dust remover and guide stickers. You also get a lifetime warranty.
Features of this product:
The Purity Premium Glass Screen Protector has natural touch, Anti Fingerprint, Ultra Slim, Hydrophobic coating, super Hardness. This makes it ideal for most if not all users out there and some of the most common issues they may have with a phone screen.
Best part you have some great drop protection in case your phone falls.
Unboxing, Install and Review Video:
See what I have to say about this product while I unbox it, install and review it.
My Experience
I personally found the install dead simple of the screen protector. I love the include install guide that makes the install process very simple and straightforward. The install kit makes placing the Screen protector in perfect alignment dead simple.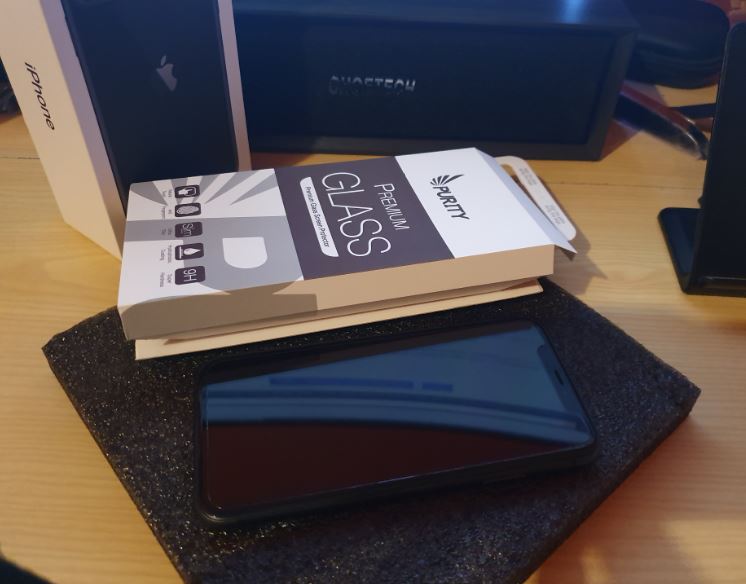 I was able to install the screen protector without any bubbles or dust beneath the screen as with past screen protector installs. I love that it now looks as if it was installed by the factory or by a professional that does thousands of installs like this.
I cant recommend this product enough. The manufacturers thought of everything, trust me I have installed a few of these screen protectors over the years.
The clarity of the display also shines through and I get way less spots on the screen while using it daily. Things now look really gorgeous and pristine.
Conclusion
I love the Purity Screen Protector for Apple iPhone 11 screen protector and find it as the ideal screen protector. I would easily purchase more product from this company within a heart beat.
I also love that the packaging remains really solid even in shipment. This because I recently had a screen protector break during shipping. The extra protection does not hurt as this product arrived in perfect condition.
Buy it Now:
You can yours below right now.
Why by this:
1.Very great price to quality.
2.Install is very simple and easy for a perfect placement.
3.Comes with a bunch of cool features such as Anti fingerprint and very good hardness.
4.Solid packaging and comes with 3x the Glass screen protectors to protect your phone.
Why Skip this?
1.This product is great I could not find a flaw and is as perfect as you can find in a product like this.
So what do you think of this product? sound off in the comments below.
Continue Reading we have even more Tips for you: