I found a really affordable camera on Amazon recently and it worked OK considering the price. The Camera was the EVERSECU Wifi IP Bullet CCTV Camera.
The problem though is that although the IP Camera and app worked fine after a year of use it lost sync with the app and no matter what I did to try and set the device up again it would not setup.
I use the button on the cable that extend from the camera, the one with the cable and cap on it and nothing happened. I went as far as deleting the Camera from the App and placing the QR code before the lens which worked fine before but the Camera would not detect the and connect to the app again. Each time it gave a error when I try to reset and reconnect the App without avail.
I gave up on the Camera:
I gave up on the IP camera and decided that it was defective or it was not working anymore. That was until I discovered something that I was able to use to fix the camera 100% and now its working again.
Here is How I fixed it:
This is how I fixed the problem with the camera.
1.Go ahead and open the Memory card compartment that's held in place by two screws where the speaker is.
2.Now look right beside the memory card you will see a switch that's seen below almost to the center of the image.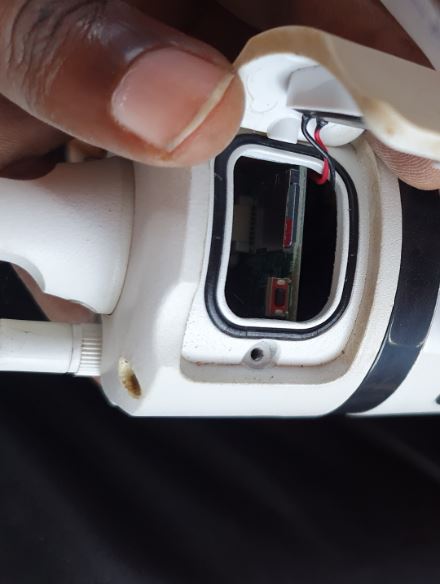 3.Plug in the IP camera and press and hold the switch. You will hear a audible confirmation that the camera has been reset.
4.Fit up the camera again and try to sync the Camera with the App and it should work fine now without giving errors.
Video Tutorial:
Check out my Video tutorial that shows you how to fix this issue with your IP camera not working.
Why did this work?
It seems the external reset switch or what I think is the reset switch beneath the external cap may not work at times. Using the internal reset switch while the camera is powered seems to be more reliable and can easily reset the camera.
Before you Go
This is the camera in Question below:
What do you think of the guide? If it was useful please take the time and share this one right now as it would be greatly appreciated.
Continue Reading we have even more Tips for you: