Making money online can be a very enriching and fulfilling experience that hard to sum up in words, however to make money online for free is an  whole other experience unto its self. Now many experienced online marketers and professional bloggers would probably place my head on a stick for placing the terms making money and free in the same sentence, but despite the disbelief you can start earning money today online and it does not have to cost you a single cent.
Mind you while there is no such thing as a free ride, what we are offering you here today is far from being bloated promises and will cost you $0, what it will require on the other hand is your time ,patience and handwork on your part. Best of all as you grow you can move to more professional services to actually develop your brand if you so choose.
Making money online for free Basics.
To make money online for free you will need some basic talents, now I know what you are probably thinking I have no talent. Well sorry to burst your bubble but we all do, so once you have an interest or something you like doing it can be made into money online. That includes if you like collecting stamps or odd stuff like sea shells it does not matter.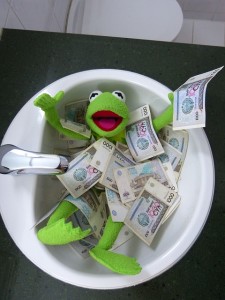 Methods:
#1 Starting a Blog:
As I said before you must be good at something that you consider a hobby. Then create a blog surrounding that hobby and display your work or express your love of that hobby by teaching others that may be interested in your beloved hobby how to do it themselves. It could be how to tutorials or a collection of your work broken down to show others how to create your beautiful form of art, it basically doesn't matter.
Now I know what you are thinking again that its all good and well but you do not know anything about websites or even how to start much alone manage one. Plus they cost money to run, well I am here to tell you that there are plenty of free options out there that do not cost a dime and if you can type in a word processor such as Microsoft word you can create a website.
To get started with your first free Blog that will not cost you anything simply click here and sign-up for an account using your Google account information and you will be good to go. Simply create a new Blog, give it a name, create your first post, publish and it will be live for the world to see. All you have to do next is organize the time, take great photos and create awesome content the world would want to see.
When you have a few articles and traffic to your content then you can make money by placing advertisements on your content and earn when readers click on these ads: you can sign up here, it's as simple as that. Now while it's a simple concept its by no means easy you may want to bear that in mind. You can also read our tips here on qualifying for Adsense before you signing-up.
#2 Free Lance writing:
You must have heard about free lance writing? you can create great articles that other would want to view and if you don't want to create a website or Blog and worry about things like traffic and maintaining a website.If you get into free lance writing the platform is there with the ground work done for you and all you have to do is create the content.
I recommend that you start off with Bubblews, the concept is great and they pay well and its easy to get started but you must follow all there rules if you want to get paid. To learn more about Bubblews and signing-up read our tutorial here and in case you doubt that this is a legit method to start earning you can check out: Interview with a Bubblews rising start who is earning from the website with evidence.
So if you are not yet excited about the prospect of earning online then you should get very excited as there are many ways to go about earning, but in most cases it can take a little time for you to get on your feet and actually start earning your first few bucks.
#3: Doing Gigs on Fiverr:
You can start a Fiverr account and start offering your skills online for a modest $5 bucks or more for a reasonable amount of work. For example are you good at imitating classic movie characters? Then do crazy custom messages for people for five bucks or more and get paid. If you are really good you can add extras and your clients will be willing in most cases to actually pay the extra cash.
If you are not good at voices there is a treasure trove of other skills such as doing authentic accents, drawings, Arts and crafts jobs, photo and video editing, programming and almost any skill or micro jobs that other may want done you can offer them on Fiverr and earn extra bucks or make it big and turn this into a full-time profession.
#4: Affiliate marketing:
Are you great at sales pitches, can you write a review of an article and convince someone to buy an item or items? If you answer is yes then you are the perfect person to Join and start promoting products through Amazon Associates program. If you are a Blogger and already have your own website then you are half way there all you have to do is create the content, but if you are not a Blogger then you will still need to go to #1 above and create a Blog but instead of creating Content on your Hobbies you will create content on products that you will review and then join Amazon Affiliates.
So once you Join Amazon Affiliates you can start finding the products that you reviewed and link them with your Amazon Affiliates account, once your readers purchase items or the recommended product that you are promoting through your link you will earn a percentage of the sale price as commission. Great isn't it? and there is no limit on the amounts of products that you can promote.
#5: Start making Video on YouTube:
A great way to earn is to create great content for YouTube that could include: Tutorials, Comedy videos, Gaming Guides, product reviews and much more. First you will need to create an account with YouTube and then when you qualify you can monetize your content to earn Big with Google Adsense program.
That's it you are now ready to make money online for free and trust me when I say that these are your best top Five (5) methods that you can use to start earning. They will take some work but if you are persistent it can lead to a full-time income stream that can to lead to you severing your dependence on traditional means of employment.  I hope our suggestions were helpful and you are now ready to start earning online from one or more of the methods above.